Homeless: The Soundtrack is a short documentary created and directed by Irene Taylor Brodsky produced by Chockstone Pictures and Vermilion Films about the reunion of my birth father and I which explores the dichotomy of two totally different worlds where music bonds together an incredible relationship and underscores an extraordinary transformation after having been separated for over thirty years.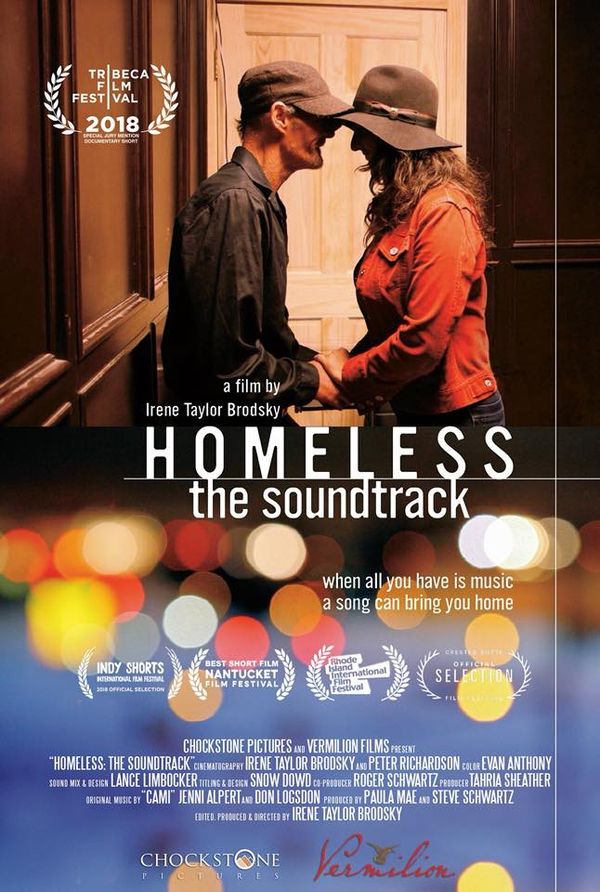 After years of being estranged from both her birth parents from having been placed in the foster care system to be adopted out in the early years of her life, having missed the opportunity to met her birth mother when she was still living, years later with the assistance of a private investigator, Alpert found and reunited with her biological father. During their first meeting, which was initially all that had been intended, upon introducing herself as her birth name "Cami" to connect the early dots of both their pasts, she discovered he was happily homeless, running from the law, and addicted to drugs, yet also a musician just like her. A few weeks into their reunion, her birth father chose to leave a life of petty crime and drugs behind to join forces with Alpert. As their incredible developing relationship took flight, she met Chockstone Productions producers Steve and Paula Mae Schwartz who upon hearing details their reunion story and reading 'Home is Where My Heart Is' the self penned article by the duo about Alpert's adoption and their biological reunion story edited by friend Mayim Bialik and published by Groknation, Chockstone producer Steve Schwartz introduced Alpert to award-winning, Oscar nominated, Peabody and Emmy award winning documentary film director Irene Taylor Brodsky who later followed, filmed, and interview the dynamic duo during the second phase of their relationship detailing their life stories apart as well as their reunion and life now together. As Alpert aided her birth father through different stages of rehabilitation, acclimation, and self-discovery alongside getting to know him personally and musically, they began developing recording and performing music as a dynamic biological duo team. Documentary maker Brodsky filmed many days of them together editing what was to become the documentary short "Homeless: The Soundtrack" which to date was selected and screened at Tribeca Film Festival 2018 and honored with a Jury Award, won best short film at Nantucket Film Festival 2018, Honorable Mention at the Milwaukee Film Festival, Jury Mention Award at Rocky Mountain Women's Film Festival, screened at the Laemmle Royal Theater in West Los Angeles, and is shortlisted for an IDA award in the short doc category. 


View Trailer Here:


Today The Biological Duo continue to perform with a purpose in various settings spanning from Hope of the Valley Rescue Mission (for those experiencing homelessness), Celia Center (support for the fostered, adopted, and all members of the adoption 'constellation') events, as well as for programs hosted by Temples, Churches, and Schools to name a few, sharing in story and song to support transformation and advocate on creative solution solving surrounding topics such as homelessness, addiction, incarceration, foster care, adoption, biological reunions, and living amongst society standards with unique learning skills and special differences. "Home is Where the Heart is Program" features singer songwriter Jenni Alpert otherwise known as her birth name 'Cami' and her birth father Don Logsdon billed as Cami & Don The Biological Duo sharing story and song about homelessness, addiction, incarceration, foster care, adoption, reunification, and transformation through the journey of their reunion. 

 
READ MORE ABOUT OUR BIOLOGICAL REUNION STORY IN THREE PARTS HERE
Written by Jenni Alpert (Cami) and Don Logsdon  
Edited by Mayim Bialik, Published by Groknation