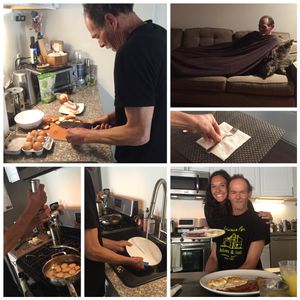 Trial Transitions  
In those early first few weeks of our reunion there were so many adventures that unfolded each day as the hours increased, but there was one in particular that seemed a pivotal turning point that led Don towards a new step forward.  One day, week two or so into our reunion, I decided to blindfold my birth father, (point being so he wouldn't know where I lived or how to come and go), to see how he would do inside a warm home with clean sheets, and a shower, and a hot meal too. This was his first time ever in a fresh clean healthy space, with everything in order, nothing out of place. I washed his clothes as he showered and gave him fresh pjs, shaved his face and trimmed his toes, and invited him to stay. I gave him the bed made sure he felt safe tucked him in real neat, and observed his humble gracious heart as he quietly fell to sleep. The morning after I set up the kitchen with food and tools for him, showed him how to make french coffee and he showed me how he would make a breakfast. It was really amazing to see how this man would act and feel inside a home with me. But the activities themselves though new and special to Don wasn't actuality what got him truly thinking about new ways to live.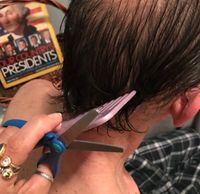 Extraordinary Measures for an Extraordinary Man  
It was the decision to blindfold Don that would be one of the most significant ones I would make for the next two and a half years of our journey to come.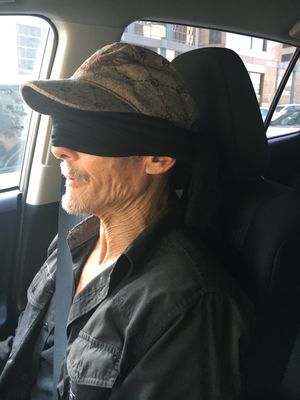 It was so different from any common way of thinking and doing, for some reason Don really appreciated the idea and the way my mind worked, perhaps a mirror of himself, a daughter he created. It was kind of like the childhood trust game, as I built routines and parameters for us as Don would let me lead and guide him into the different places I lived at the time, all based on trust. It later would become clear to me that one of the reasons our dynamic was working was because I was not only starting to act as his advocate in the processes of obtaining the things he needed for more stability in his life towards self reliance, but I also became his social skills 'shadow', a term used in the spectrum world, providing social and emotional skill set direction and guidance for all the new situations Don began to find himself in, a role I learned and developed during the years prior to Don when I spent time working as a tutor and a special needs social skills shadow for the autistic students I helped and it was Don that would actually let me. It wasn't so much that I felt Don needed experience exactly, but I felt that if I offered him guidance with introductions to what he had never experienced or had before, and if we did this together, perhaps his perspectives and interests would broaden. As the days would pass into years, this is exactly what did happen. In a way we were parenting and healing one another for all the days we had missed with one another.
Don and his Intelligence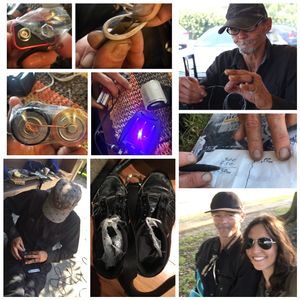 Don is extraordinarily smart in his creative survival solutions and by no means incapable, but his approaches would often vastly contrast what society may recognise as appropriate and successful and I wanted to protect and I'm redirect him with that. In fact, in the early days, sometimes Don would revert to youthful behaviors as a way of relating with me, speaking in a soft childish tone or extremely loud to be heard but instinctively I saw these behaviors as as positive social inexperience protection self preservation and because he was used to being misunderstood and disregarded rather than something qualifiable for a mental diagnosis. And although over the course of his life he had been assessed with having many different possible clinical issues throughout the course of his life, as I observed Don more exposing him to new things under the veil with consistency and kindness, I began to believe he operated in the ways that he did more due to a combination of what he had and had not been exposed to throughout his life as well as the drug use and treatment inside the institutionalized environments he was placed in, less than solely due to a chemical wiring and I wanted to reach him by trying something different. The ultimate purpose of blindfolding idea was to avoid him seeing the routes to where I lived when I as I would take out of his natural environment and assimilate him using mine to always keep my life slightly separate, safe and intact just in case anything changed.I didn't tell my family, my friends, or the relationship what I had been doing either, and this wasnt to keep them in the dark,  rather it was a way to protect them from their worries or preconceived notions they knew based on education, and because I wanted for the first time to be able to follow my instincts, trust my own judgement, and experience my journey in my own way. I knew from education that addicts often would return to their old lifestyles and to their drugs of choice, and even steal from you wreaking havoc in your life, so I also didn't have a set of expectations or any ideas of grandeur when inviting Don into my life. I still wouldn't advise anyone to get involved with a situation like ours without field experience and external support as our dynamic was extremely unique and special to us. Don would remain registered homeless despite the fact that I continued to shadow his life indoors and outside feet from where I would reside daily throughout the rest of our relationship together simply to always leave the door open if he ever wanted to return back to his old way of life on the streets but he never did.
Our First Music Gig Together 
Don: "After spending so much time with Cami, I started to think what life might be life if we continued this way. She was listening to me share so much about myself, I realized I hardly knew much detail about her but little by little I was part of her life. She was smart like that. Then the most amazing thing happened. walked together around Long Beach like we usually did and she decided to pull me into that home for seniors that had a nice big black piano in it. All of a sudden, she began singing and playing the piano for everyone and this was the most incredible thing I ever heard. For the first time I realized she was not only a musician like me but an extraordinary one."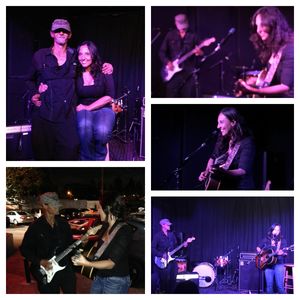 Don: "Then she invited me to perform guitar with her at her next show up in Hollywood. I couldn't believe it. This was so stunning to me that my daughter was this good, a professional musician, something I had always wanted to be. It was also a thrill when we drove up to this place called Genghis Cohen where she was to perform to a packed house. First we checked the sound of the guitars together and then she sat me in the audience for the first few songs before she called me up to share our story and have me play my guitar. I sat there and listened and couldn't help my tears, she was really really good and so were her songs. If my dad and middle brother were still around, they would of been proud. ​​​​After that night my mind was irreversibly made up that from then on I would change anything about myself I could to carry on this relationship with this young woman who was actually my very own daughter. When I was watching her play and sing on the piano that afternoon I thought I was watching a real angel and I don't usually think things like that but that day I did. I couldn't believe this person that I was witnessing was my daughter."

The Decision to Go Back to Jail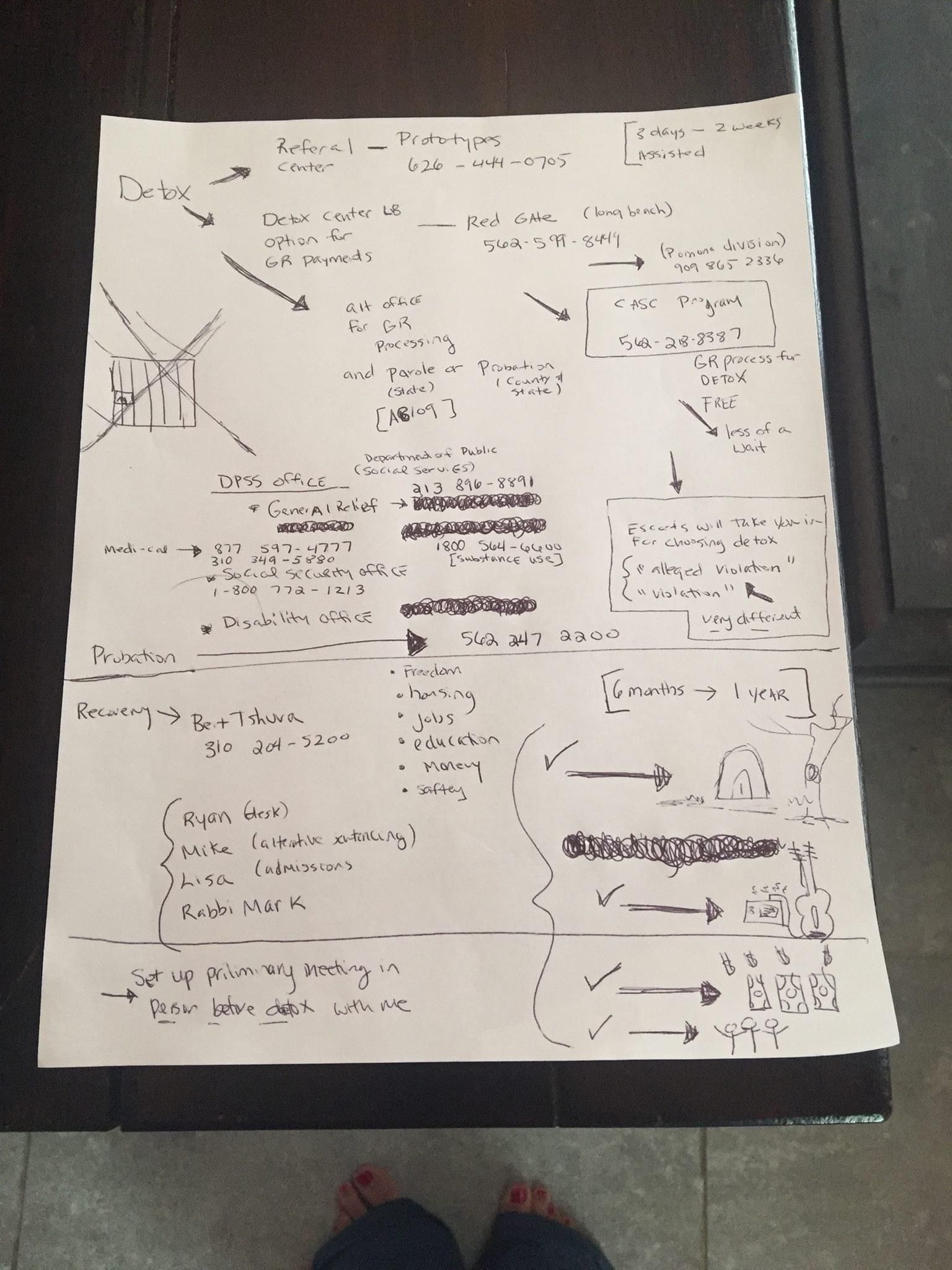 Just three weeks after we had met and after we had been spending so much time together flooding Don with all these new experiences, Don made the decision to turn himself in the police and to end his running once and for all so that we could be together more often and in a safer way. We went on the beach after I drew a whole map of options for Don so he could see all the outcomes visually based on the number of choices he had. Finally, he was ready that afternoon and together we called Officer Sykes to give her the news. Don wanted to let her know he had met his biological daughter and was ready to stop running from the law and turn himself in.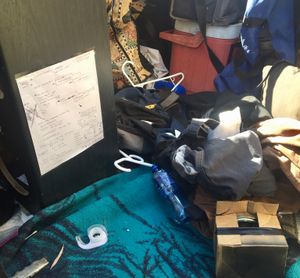 Don: "Being willing to give up my freedom and walk into a police department was not an easy decision at first, but it came from a sudden realization that in order to keep Cami and and become more desirable to her as a human being, I'm going to have to give up a few things. And I knew there were things I was doing in my life that could get me and her in trouble. Once I made this decision, my mind could not be changed.So I made a decision that in order to be able to keep her around, I was going to have to do my time owed in jail. But after we left that gig she brought me to, I went ahead and told her that whenever she was ready we could pack my stuff and drive me to the police station. I emptied my pockets, gave her my chess set, and would enter with only the clothes on my back. And when I did this I never looked back."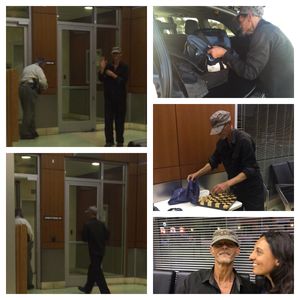 Turning Himself In
I was with him that Saturday when he decided for sure to turn himself in, helped him pack, and drove him to the station. For some sort of timing reasons, they couldn't book him in for over three hours, so we had to wait. They actually denied his initial entry and asked him to come back if you can believe that but with his then way of life, a lot can happen in three hours and I knew I should stall time to avoid this. So I got out my phone had he and I sit in the police station arm-in-arm on the ground and I streamed the movie 'Good Will Hunting' for us to pass the time. He loved the movie, as I knew he would.  And in fact the movie itself  set the tone for the months that were to come. We laughed a lot, disrupting people who would come and go in the police station, but these were our last moments together for a while. In fact what Don didn't tell me was he was actually risking facing a much longer sentence for having run so many times and it would be up to Judge Kennedy to finally decide. Although jail is never a place you would wish for someone you love to be, I felt better knowing Don would be in jail a while as I prepped to prepare for what may come next for him upon his release, feeling he would be safer than using on the streets surrounded by gangs. Jail also gave Don an opportunity to process everything that we had experienced together. It was my hope that he could start having a new hope for the future. 
It was at that moment that we knew that, one way or another, our next chapter of our lives would have each other in it. 
Stop Running and Using for Good
Upon every release prior for most of his life my biological father would run from his probation officer every time he was let out of prison because he couldn't follow the probation regulations that he remain clean: all his drug tests would come back positive. Old habits die hard and stopping is harder but something was different this time. It seemed that the time we spent together during those three weeks reached Don in some way and led him to make the choice on his own to turn himself in to the police and to end his running once and for good. Because after we met, for the first time in his life, Don was willing to try something new: the road to a different kind of freedom.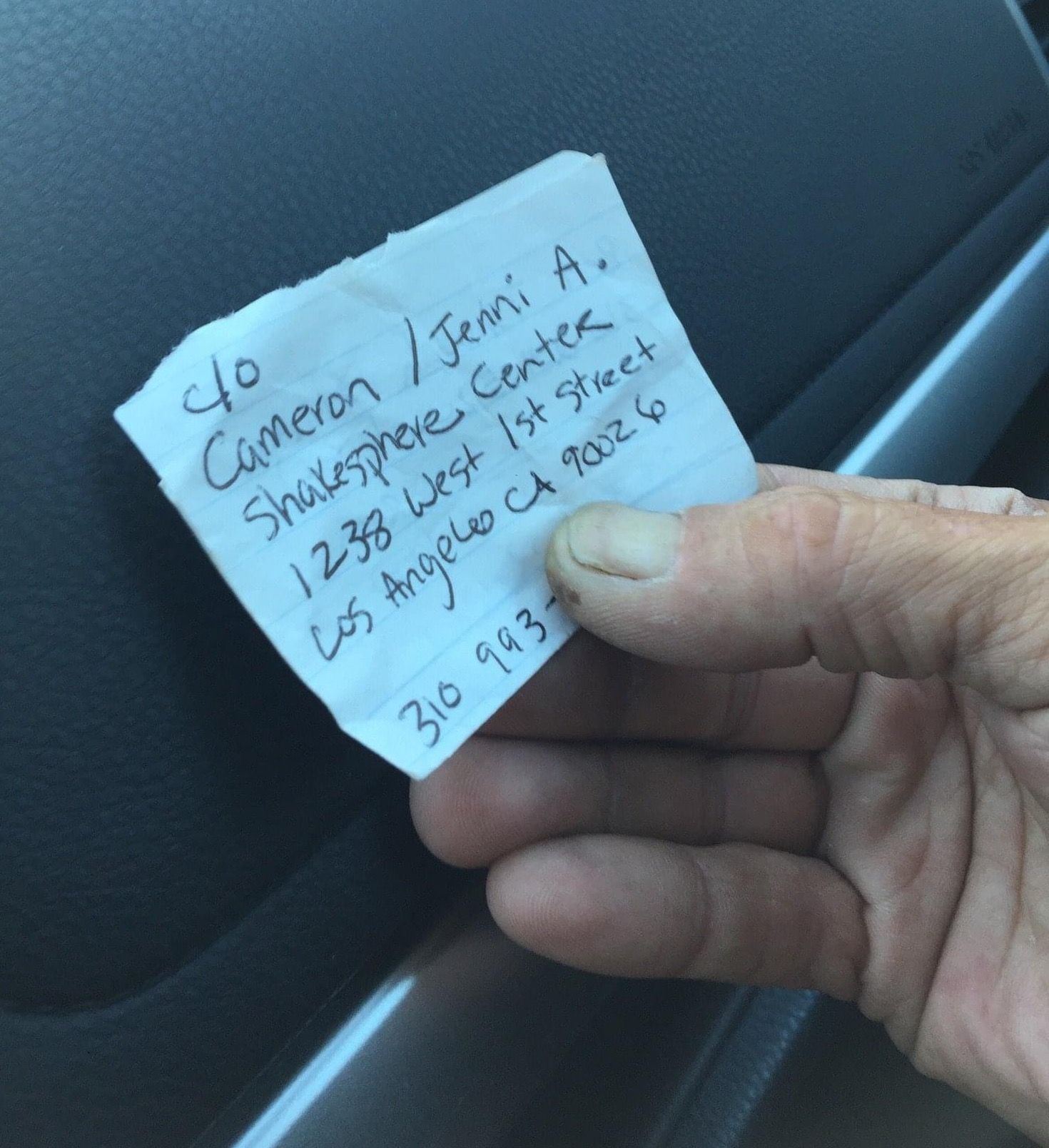 After asking The Shakespeare Center my neighbor when I lived downtown at the time to borrow their address for a safe return address while he was in jail awaiting a court date for release I also made sure he had this address related to me (even though I actually didn't live there, I lived next door), I knew it would be a good idea for him to have some safe way to keep in contact with me for the next chapter we might share together, whatever that may become. And now that we had a bit more of a definitive release date to plan on, for the next three months, from August to October, Don and I wrote letters back and forth to keep both of us busy.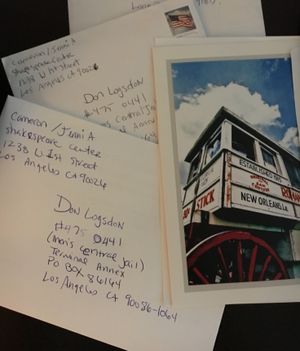 Another Life
At that time, I was also preparing to travel across the country to bring my car back home to LA from a short stint of time I had spent writing songs and recording a live album with guitarist Guthrie Trapp in Nashville. Every single day on my route back to LA, I made sure to find a post office wherever I was to ensure that letters would be mailed to Don consistently. Sometimes I would write four letters a day, to make sure he had plenty to read. All the while he was writing me back and The Shakespeare Center held onto the letters for me. I did find some irony in the fact that when I used to act quite regularly back in highly school, I had landed the role as Viola / Cesario in my only Shakespeare play which was a female character that disguised as a man to protect the person from embarrassment of whom she really loved. I found it interesting and ironic that now later in my real life, once Jenni now calling myself Cami also balancing both worlds of my adoptive and biological self to protect the ones I loved.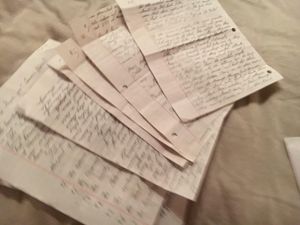 The Letters and the Jail Visit
Settled back in LA by the morning I stopped and picked up the letters from Don waiting for me and began to plan a visit.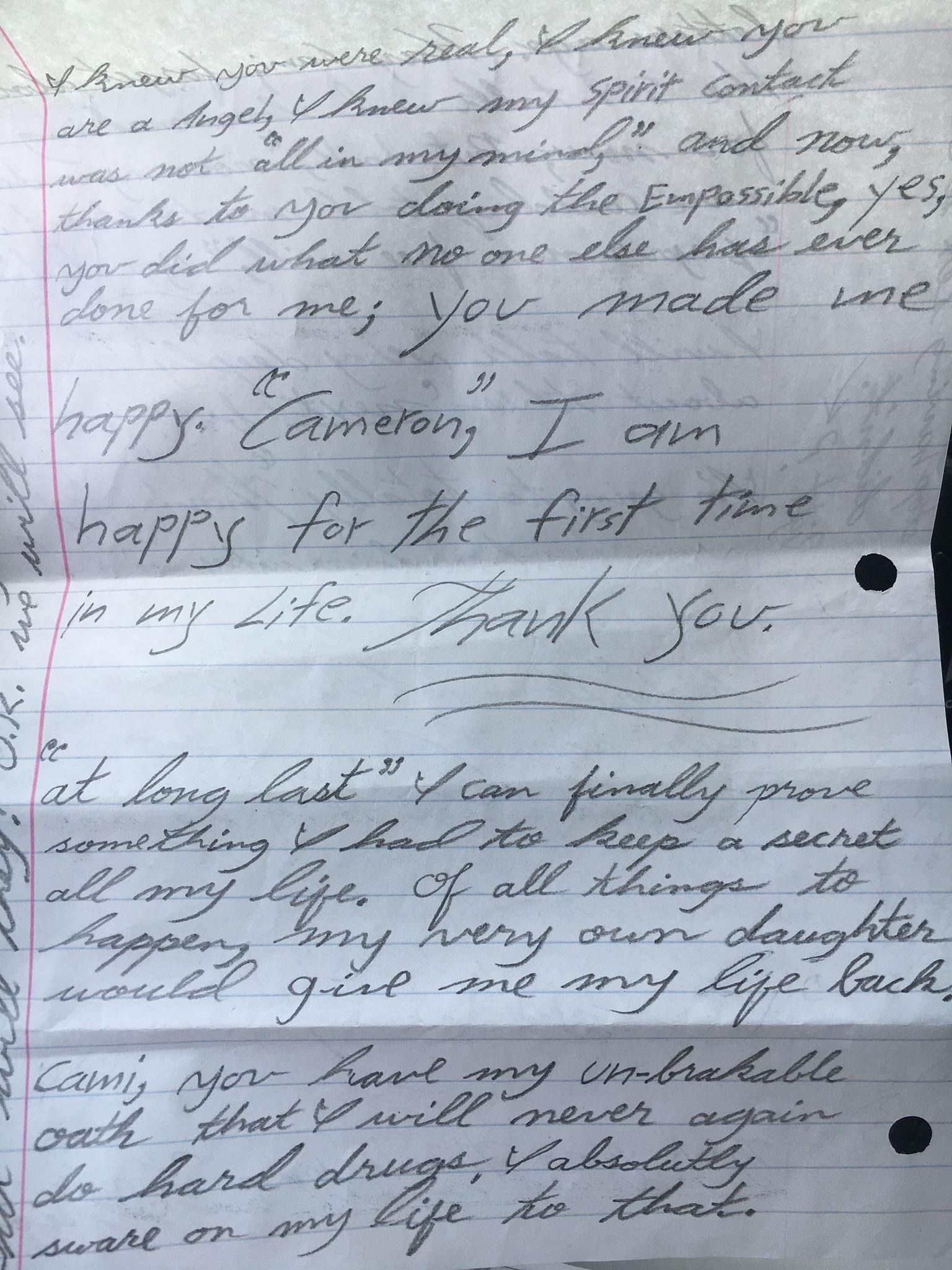 The Visit in Jail 
Don: "I was sitting on my bunk about one week after I got there to jail when the cop brought me her first letter and I said to myself god damn she really did write. The Pisas on bunk 63 saw that I got a letter and they said "hey white boy who wrote you and what's it say?" So I told them it was my daughter writing me telling me she was gonna come and visit and they said from the way it sounds it sounds like it might be a made up story. A few days later I called out for a visit and so were the pisas who knew I got that letter who got called out for their own visits and they seen her. The second she came in to sit between the glass with me she was wearing a black cape looking thing with bell bottom pants and long black hair down her shoulders and she looked shockingly pretty to the point where all five guys that came to get their own visit that seen her couldn't believe that she was actually my daughter. So when we got back to the dorm, one of the pisas asked permission if he could tell everyone what he had just seen, and asked me "how the hell did you make a chick like that?"
The Hearing 
I knew that Don had chosen to turn himself in order to keep me in his life, but what he didn't know was I would of stayed in his somehow and loved him as he was whether he had chose that change or not. Maybe somehow he did sense this very thing and maybe that was part of why he did. It was only after he had turned himself and been released that I discovered since he had violated his probation so many times - he might of had his probation revoked completely, resulting in a potential sentence of two to three years. A risk Don secretly was taking. But instead of fear, he chose to have faith as gambling his nature. Don later told me that he had kept this potential sentence and grave consequence from me in order to protect me from the pain he thought it might potentially cause me if things didn't go the way he had planned. Lucky for the both of us we had a bit of luck or perhaps it was compassion or curiosity from others on our side. Could we do the impossible together? Let us wait and see. Upon hearing Don's new plea, the  judge decided to give him one more chance and sentenced him to a mere 12 weeks, the standard 90 day sentence for probation violation even though he was was well past strike number three, instead of a full 3 years. On the day of Don's court hearing with Judge Kennedy, I woke up earlier than usual with a shortness of breath. I was nervous for him and for the outcome this judge might decide and kept thinking Don's name over and over again. I tried to picture precisely what he might be experiencing at that very minute in time hoping to send him courage and faith that everything would turn out as it was supposed to. I felt like I would be able to protect him in doing this even from afar, which confirmed for me what I had felt shortly after meeting him: that there was a reason for our reconnection, much larger than I could have imagined: I was going to be able to present a bit of safety and protection for him if he chose so as he faced the next part of his life. 

Since this was hearing would determine the outcome so naturally his gamble was much much higher but based on his gambling history for survival he always played to win. He went on that morning to represent himself, sharing the story of having been found by his birth daughter, me, that he was once separated from and pleaded for one more chance because upon our three week reunion and my observations of Don during our time together prior to this, I had began to act as his advocate naturally and shadow him in social situations as a guide based on my experience with this technique with many unique learning students I had worked with before similar to see if it would help redirect thought processes, habits, and behavioral go tos he had. Don presented a strong case and asked for one more chance. The judge miraculously chose to grant Don probation a decision rare to none but I believe the judge looked up our history in the courts system and decided for the uniqueness of our truth to take one more risk with this grant. By all accounts, this was a chance that should have never been granted, but he was being given one more opportunity to follow the probation regulations and maintain a newly found sobriety. 
The Release from Jail 
A few days before Don was to be released I hadn't I received a letter. I realized that he didn't have any alternative options of where to meet me if our plan to meet outside of the jail exit doors failed to work. I started to imagine the possibilities of all that could go wrong so I phoned up the sheriff and asked to be patched into the main jail officer to prepared inmates release jacket to send Don a message. Now everyone who's ever known someone who has done time  knows that jails and prisons do not take messages for inmates but I was desperate to make sure our meeting upon his release would work or that he would have an alternative meeting spot to find me just in case it didn't otherwise I knew for certain based on my studies of the human condition that old habits would certainly step in.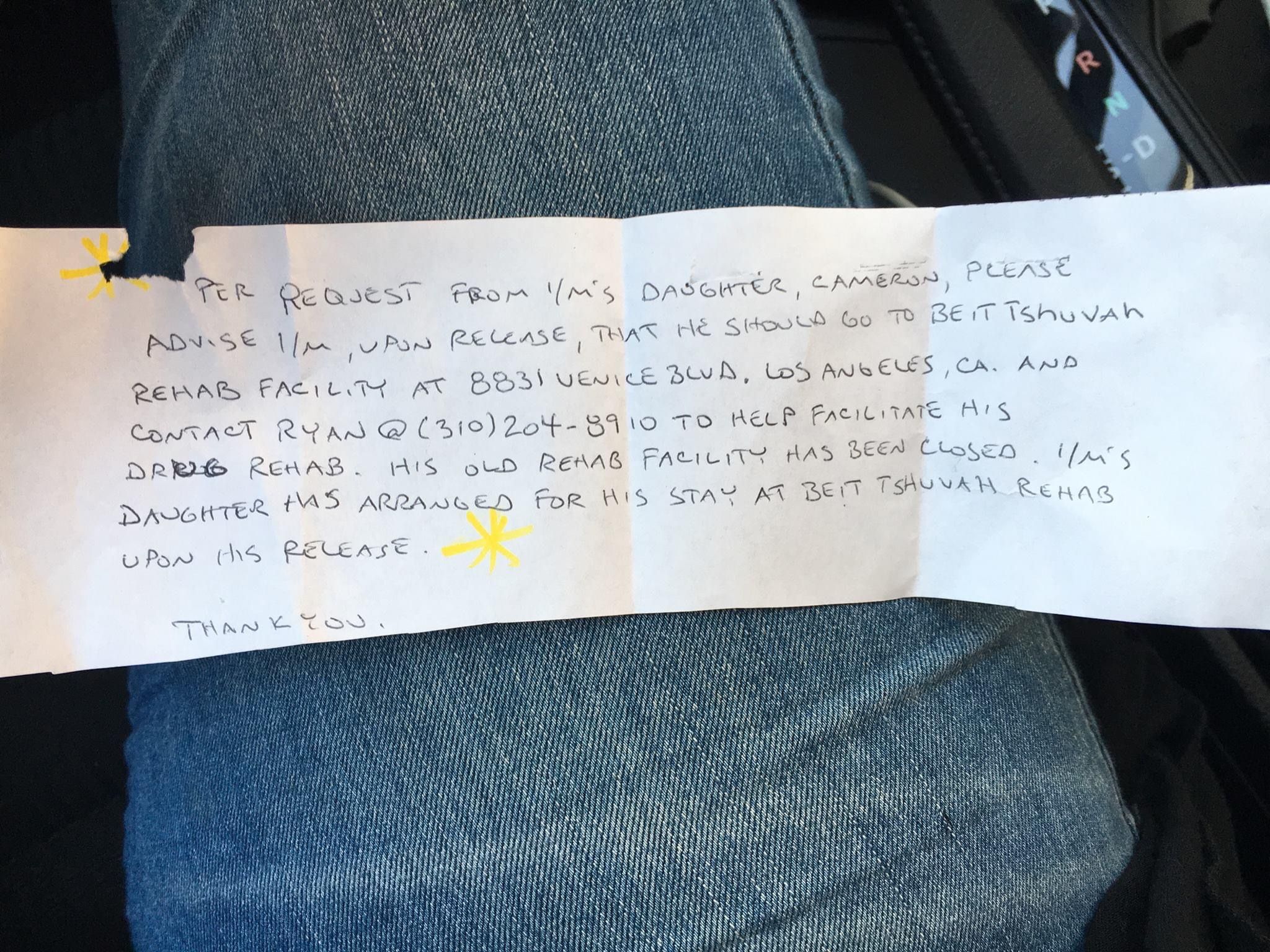 When the sheriff finally patched me through it took some convincing of the officer that answer my call, but finally when I told our biological reunion story that by writing this note with exactly where I would be waiting with an alternative location listed if he couldn't find me as well in his release jacket, that he had an opportunity to save a life, he hand wrote the message and placed it in there for me, I'll always remember him so.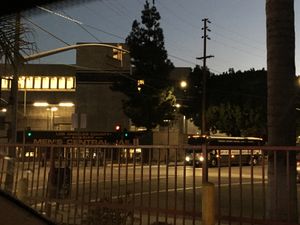 On the morning of Oct 5th got there as early as I could since I myself didn't know exactly when they would let him go and had been waiting since 6am in my across the street from downtown LA county jail. I made sure to look at every man passing by hoping I'd see him when he was released.  And at exactly 7:03 I saw him walk out of the door and cross the opposite street. I screamed, "Don! several times times to make sure he saw me and when he did, he changed his direction towards me after three long months we embraced and our first safe day together began.



*
Homeless the Soundtrack, The Subjects


Cont.
PART 2
VI. HOPE
From the moment of my birth father's release from jail, we began doing as many memorable activities together
as I could think of. We started with ...
https://jennialpert.com/blogs/lineage-from-the-beginning/posts/vi-hope