MEMOIR: Home is Where the Heart is, An Adoption and Biological Reunion Story is NOW available for purchase on
AMAZON KINDLE and in PAPERBACK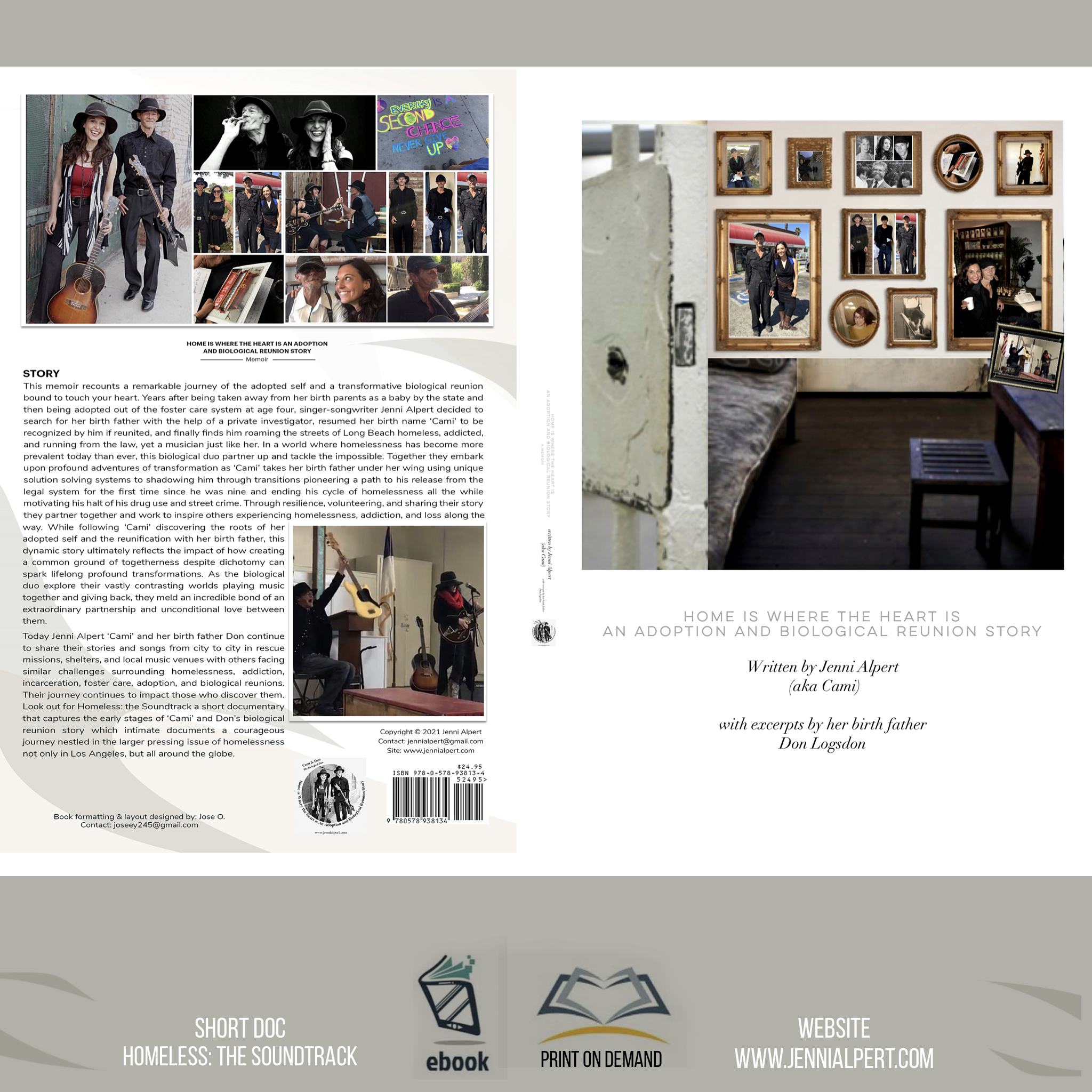 ---
CELIA CENTER PRESENTS A VIRTUAL EVENT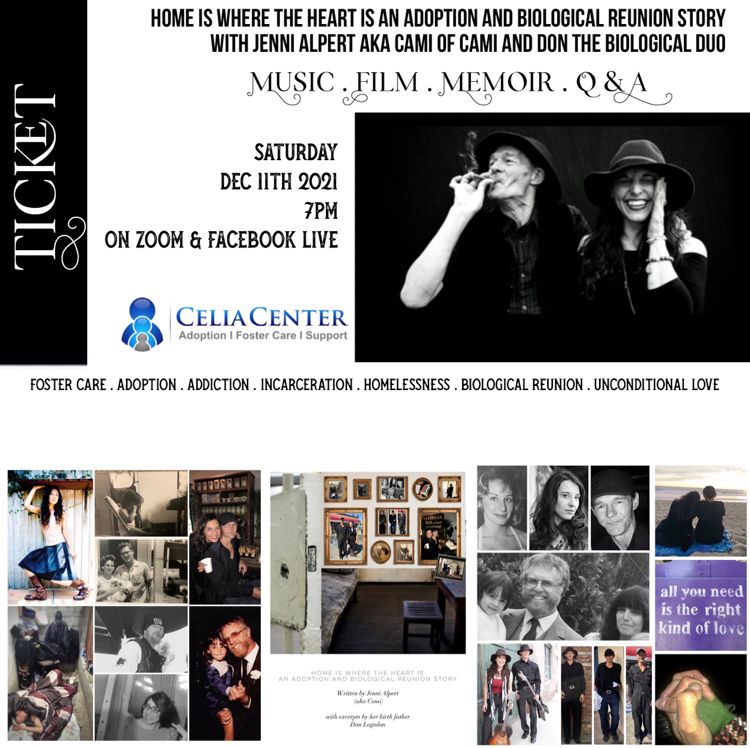 ZOOM & FACEBOOK LIVE EVENT Celia Center Presents: Home is Where the Heart is An Adoption and Biological Reunion Story - a Special Evening of Performance, Film, Memoir, & Q & A with singer songwriter and formerly fostered adoptee experienced in biological reunion Jenni Alpert (aka "Cami" of Cami and Don The Biological Duo). Jenni Alpert (aka "Cami" of Cami and Don the biological duo) will share her biological reunion story, songs, clips from Don's Take, and a with Q and A about her memoir moderated by Jeanette Yoffe with a one-time only complimentary private screening of the short doc Homeless the Soundtrack about the early stages of their reunion when she goes looking for her birth father, finds him homeless, running from the law, addicted yet a musician just like her for donors and support group attendees at the end on zoom only.
---
ART OF EXPRESSION:ARTS PROGRAM FOR HOPE OF THE VALLEY CLIENTS AND RESIDENTS: A program for those experiencing homelessness to create a newsletter of their own called Village Voices implemented this October and November in my birth father Don's honor. Thank you to Harout of Hollywood Disc Printing for manufacturing the fall edition newsletter and to The Michael Doman Artist Foundation for making this program possible.  Additionally custom "Feel Free and Rest a While ~ Manhattan Don" benches have been placed at Hope of the Valley sites so that Don will forever provide a seat anyone who may need to take a rest. Thank you to the generous donors who contributed to make this possible as well.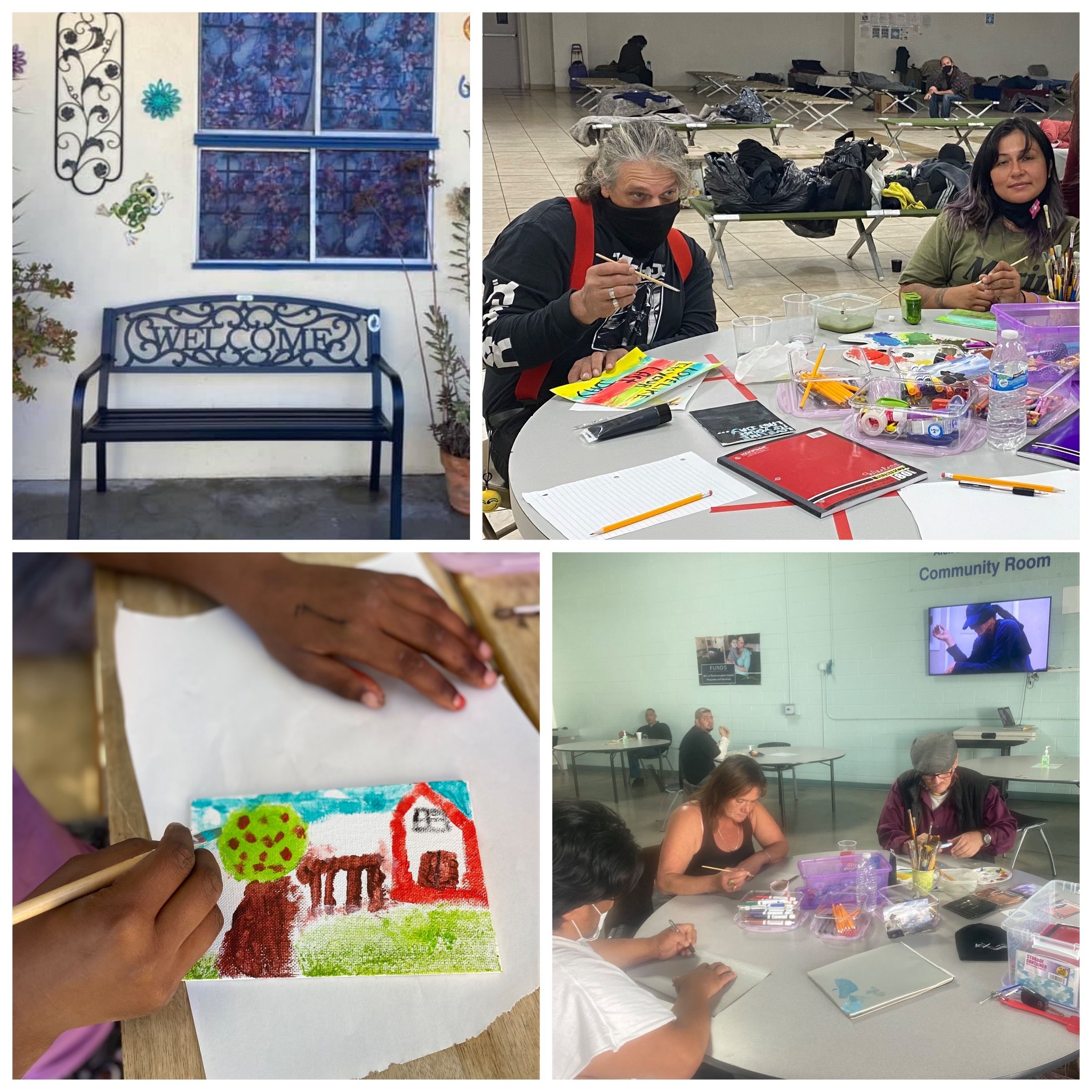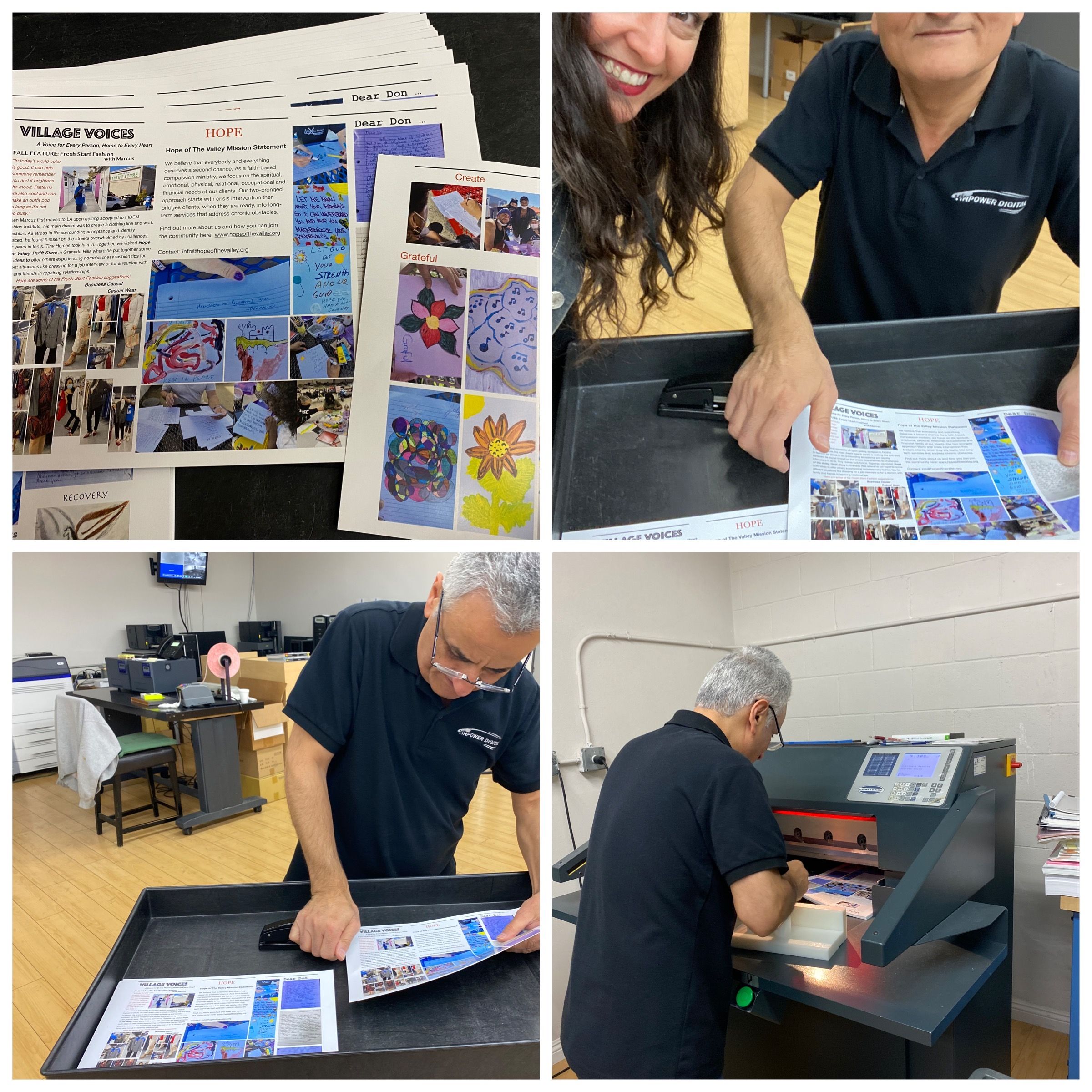 ---
DUE TO THE SUDDEN PASSING OF MY BIRTH FATHER THIS TOUR HAS BEEN CANCELED HOWEVER PACKAGES WILL BE SENT OUT TO EACH RESCUE MISSION IN HIS HONOR. THANK YOU FOR YOUR SUPPORT.


Rest in Peace 
Don Patrick Logsdon 
Dec 15, 1960 - Aug 18, 2021 . 6:10pm 
Loving Spirit, Musician, Craps and Poker Player, Chess aficionado, funny highly intelligent, brilliant giving person, my birth father and best friend.

~ ~ ~ ~ ~ ~ ~ ~ ~ ~ ~ ~ ~ ~ ~ ~ ~ ~ ~ ~ ~ ~ ~ ~ ~ ~ ~ ~  

This Aug you can follow us around the country virtually or come visit us in person as we take our Home is Where the Heart Is Story and Song Program to Rescue Missions and Homeless Shelters on a Trek around the United States. With the support of a grant from the Michael Doman Artists Foundation and partnerships with several non profits and rescue missions we will be bringing story and song about creative solution solving suggestions for transitions and transformations.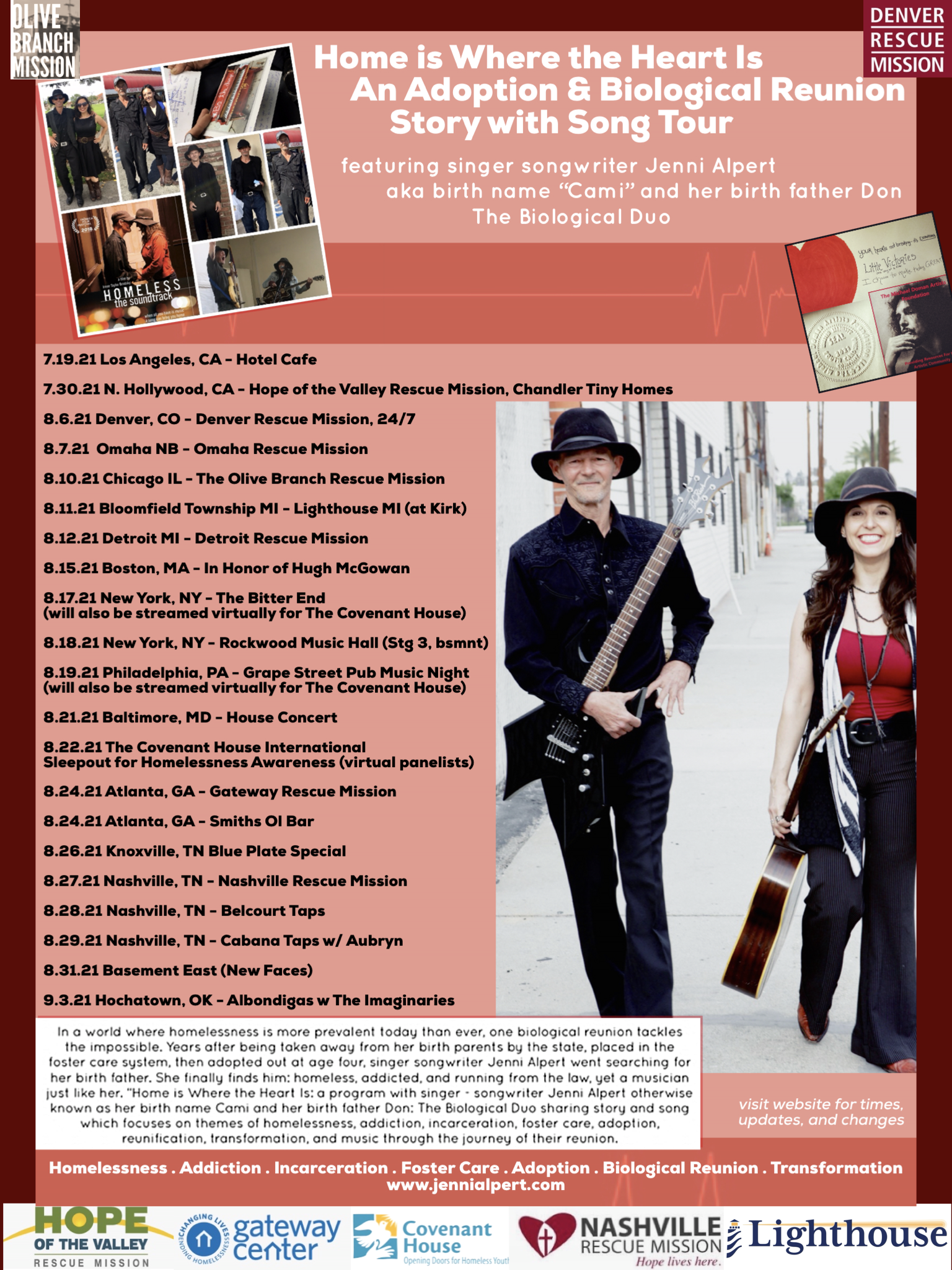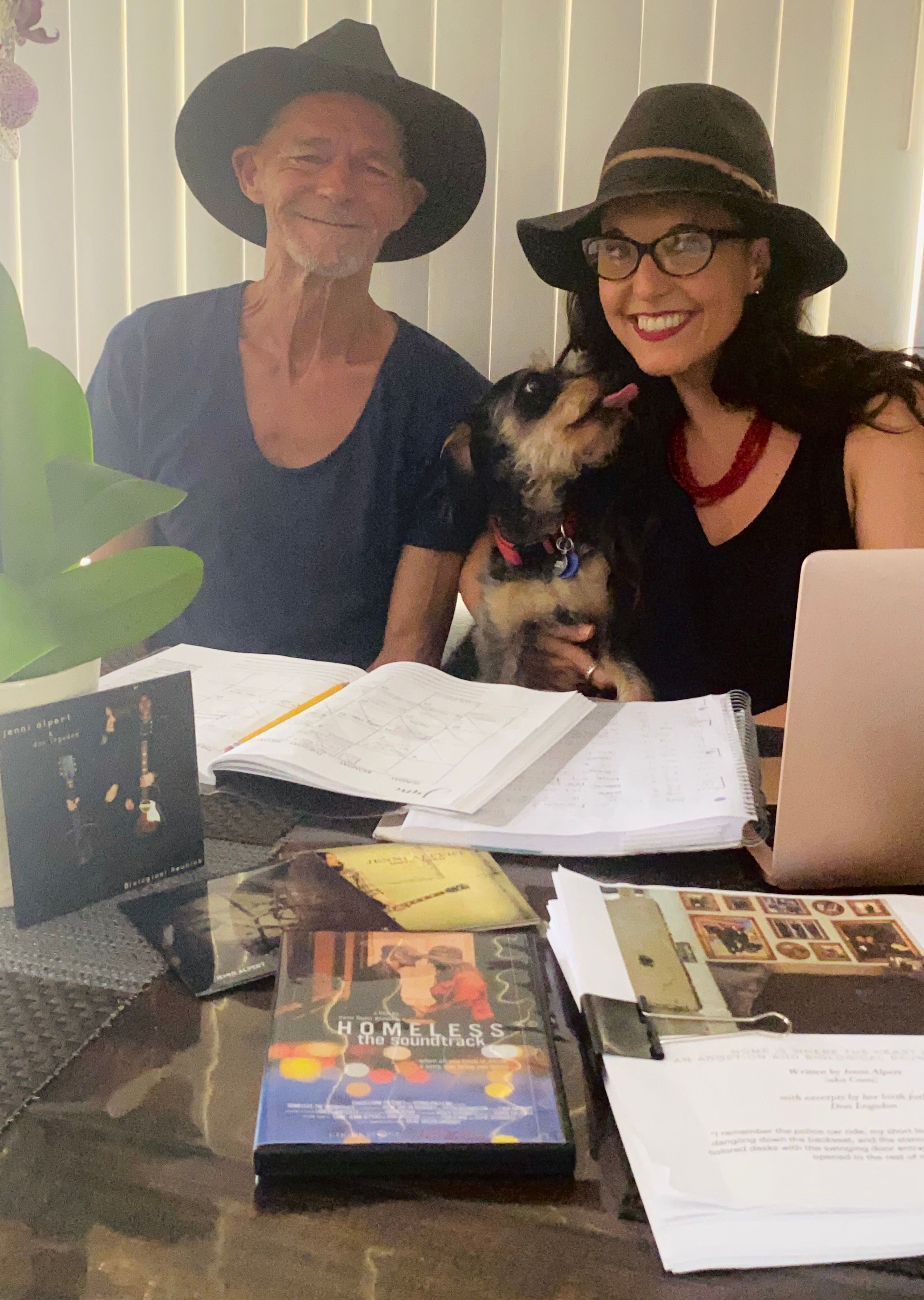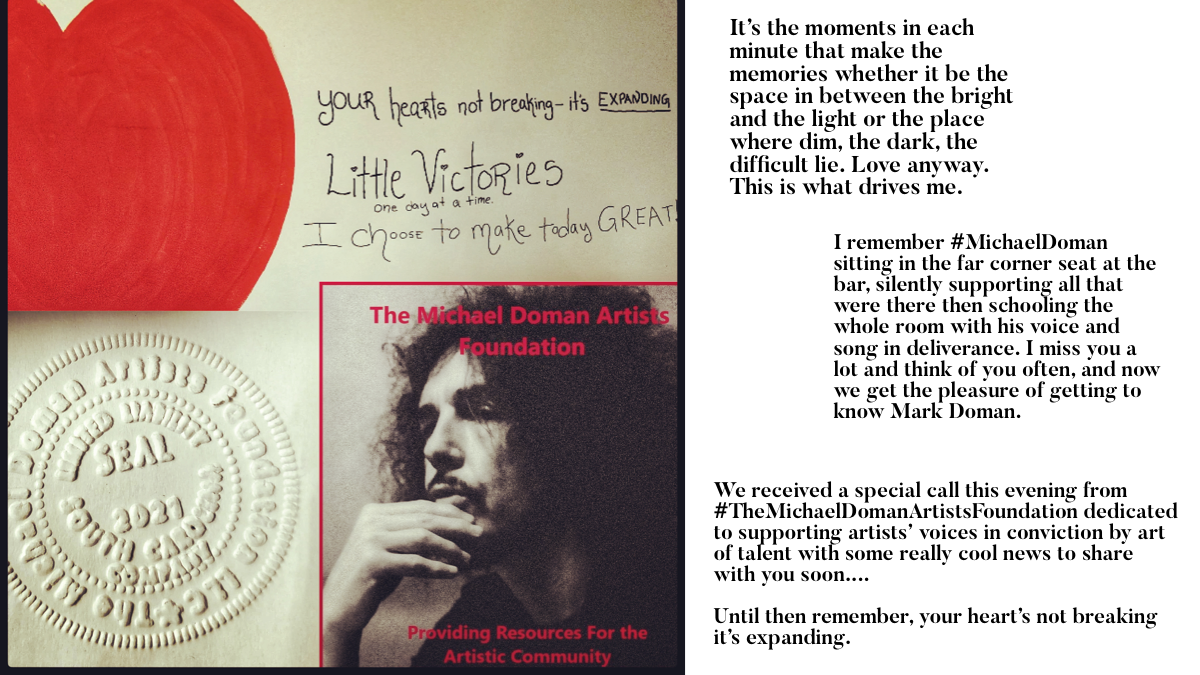 ---
 For the Month of July, join us with Hope of the Valley Rescue Mission at their various shelters and campuses.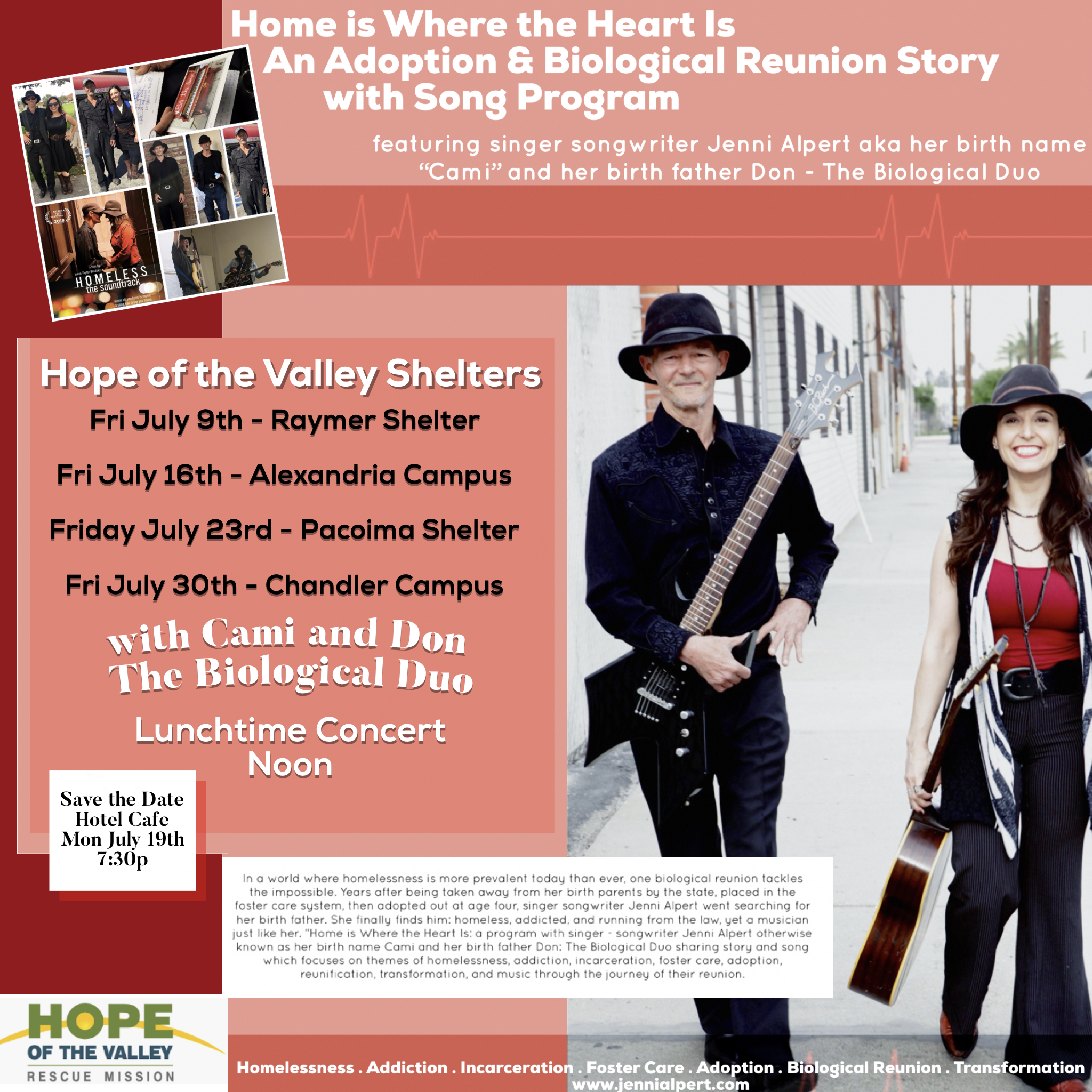 Catch our first Home is Where the Heart is Program of the summer sharing our stories and songs at The Raymer Shelter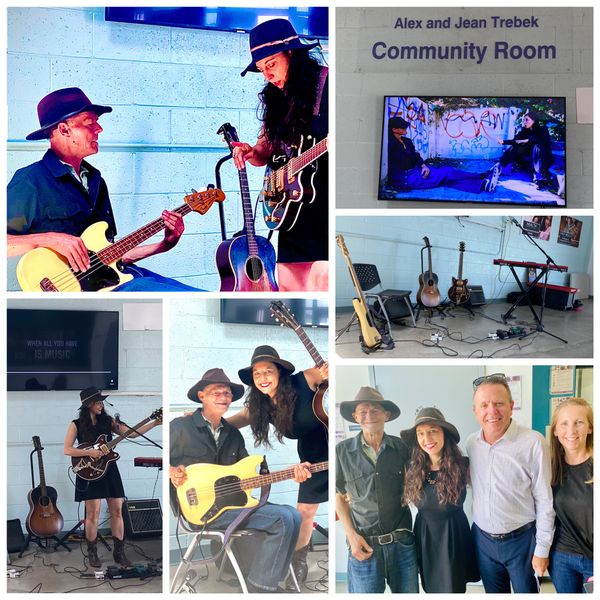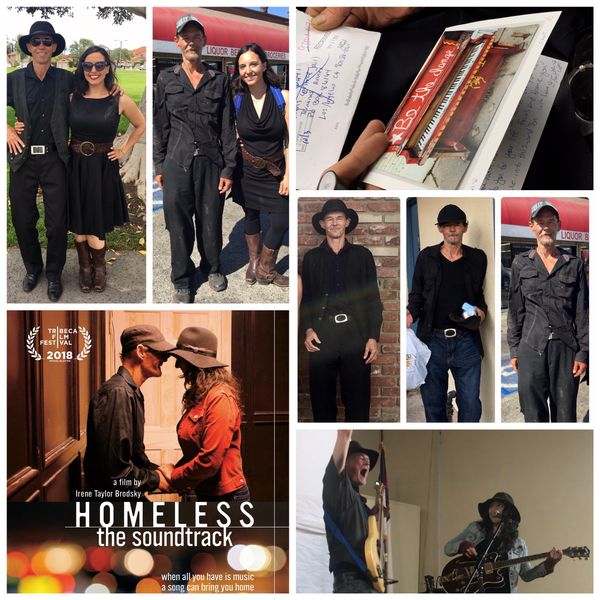 ---
Live Back at The Hotel Cafe this July - Watch a snippet of the live show here!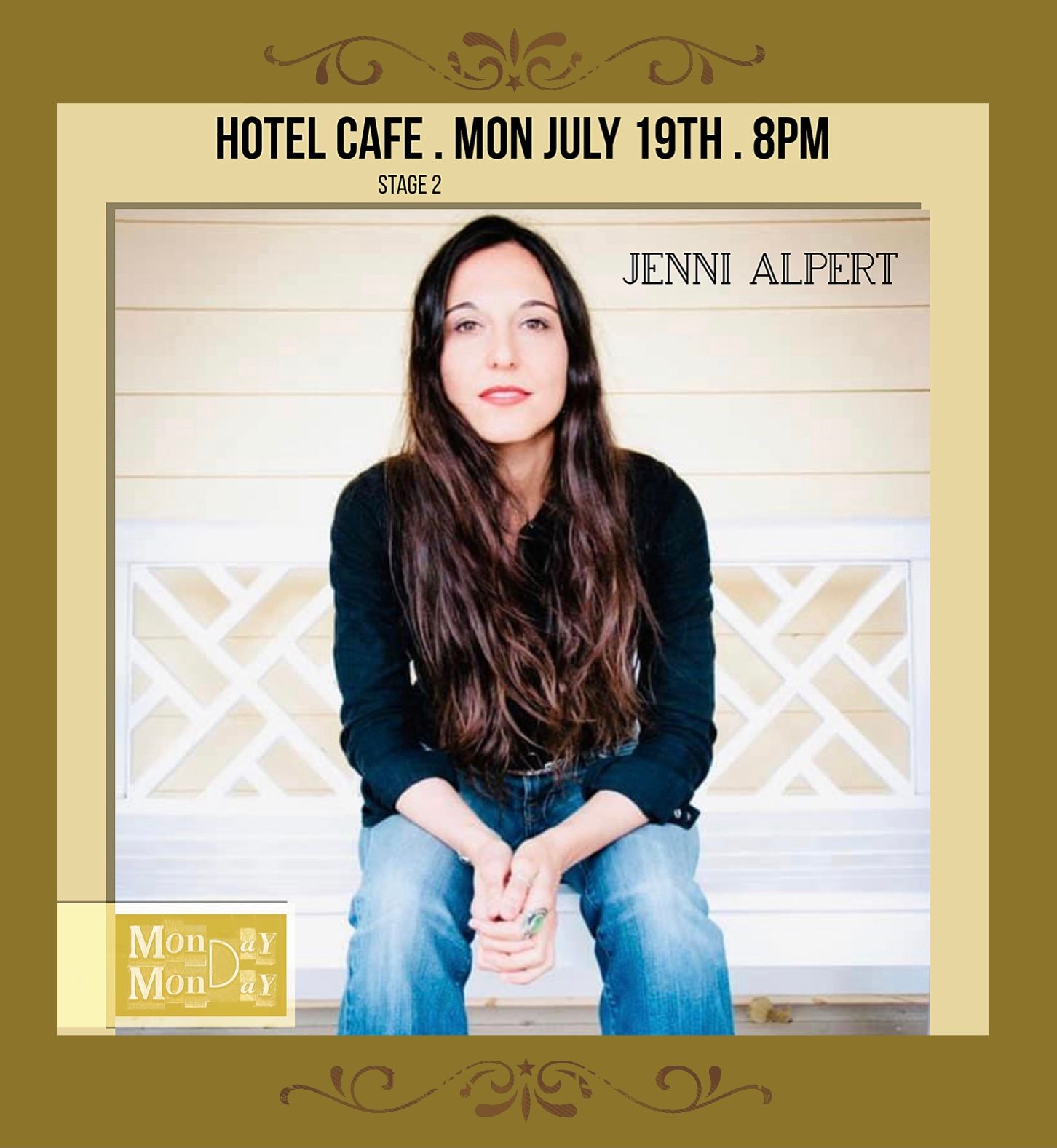 ---
New Merch for the Road thanks to Harout at Hollywood Disc and Print!!!
---
New single called Constellations written with and produced by Shane Alexander mixed by Brian Yaskulka featuring Stevie Blacke on strings while mastering with Eric Boulanger at Bakery Mastering. The Adoption Constellation is a term that was coined by a professor and writer Michael Phillip Grand who understood that the adoptee and all the components connected to them were part of one larger bigger thing and so he drafted the metaphor of "the constellation" as a new way of thinking about adoption to help map it out, connect all parts, and heal the "primal wound" for all connected components - the birth parents, the adoptive parents, adoptees, sometimes formerly fostered in foster care like me - placement agencies, attorneys, social workers therapists, birth and adoptive siblings etc... to show that we are all part of one Adoption Constellation - all parts of one greater piece together.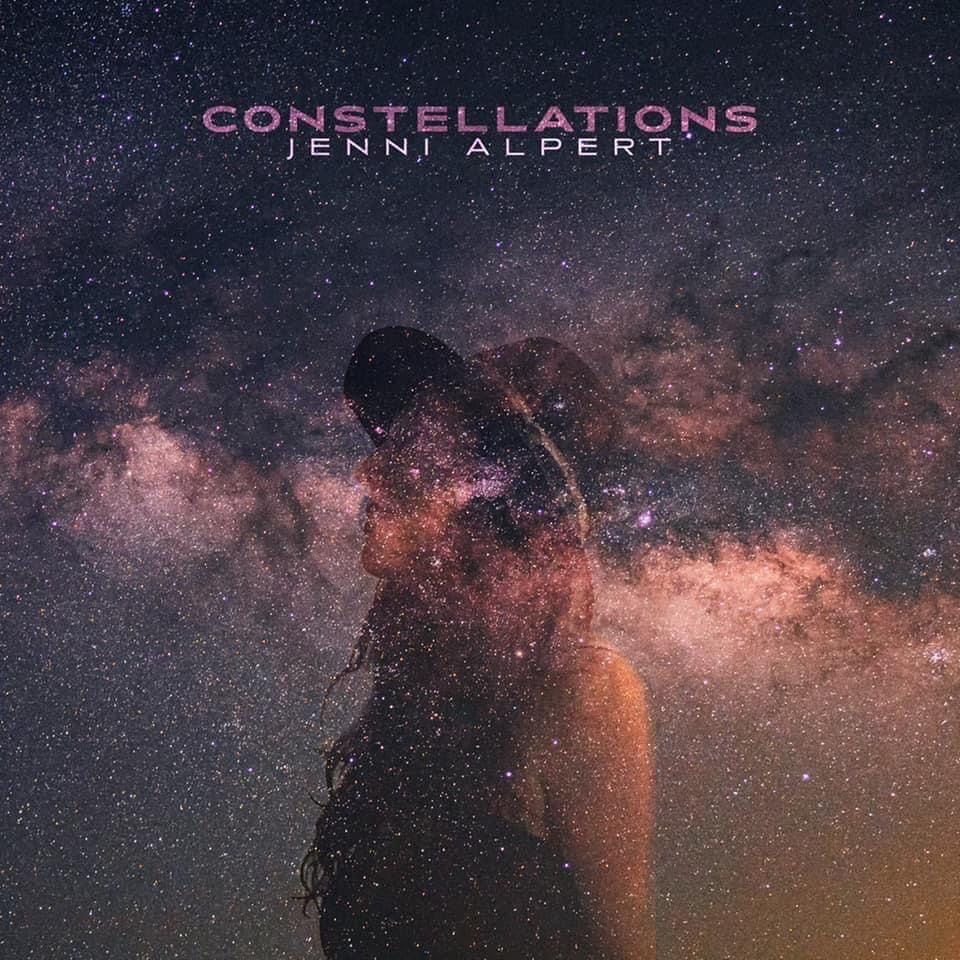 ---
Stay tuned for the release of the both film / one man play @ghost kingdom written and performed by playwright, actor, and fellow adoptee Brian Stanton about his search for this birth father and the soundtrack for it composed by yours truly this fall and will debut at the National Association of Adoptees and Parents Annual Conference Sept 10th.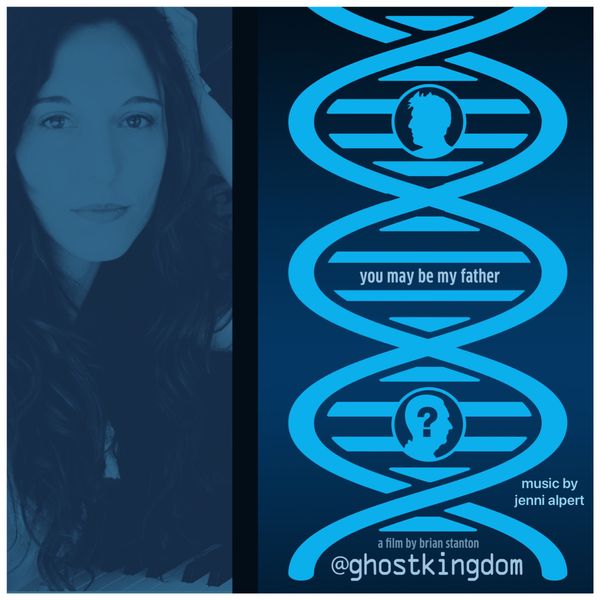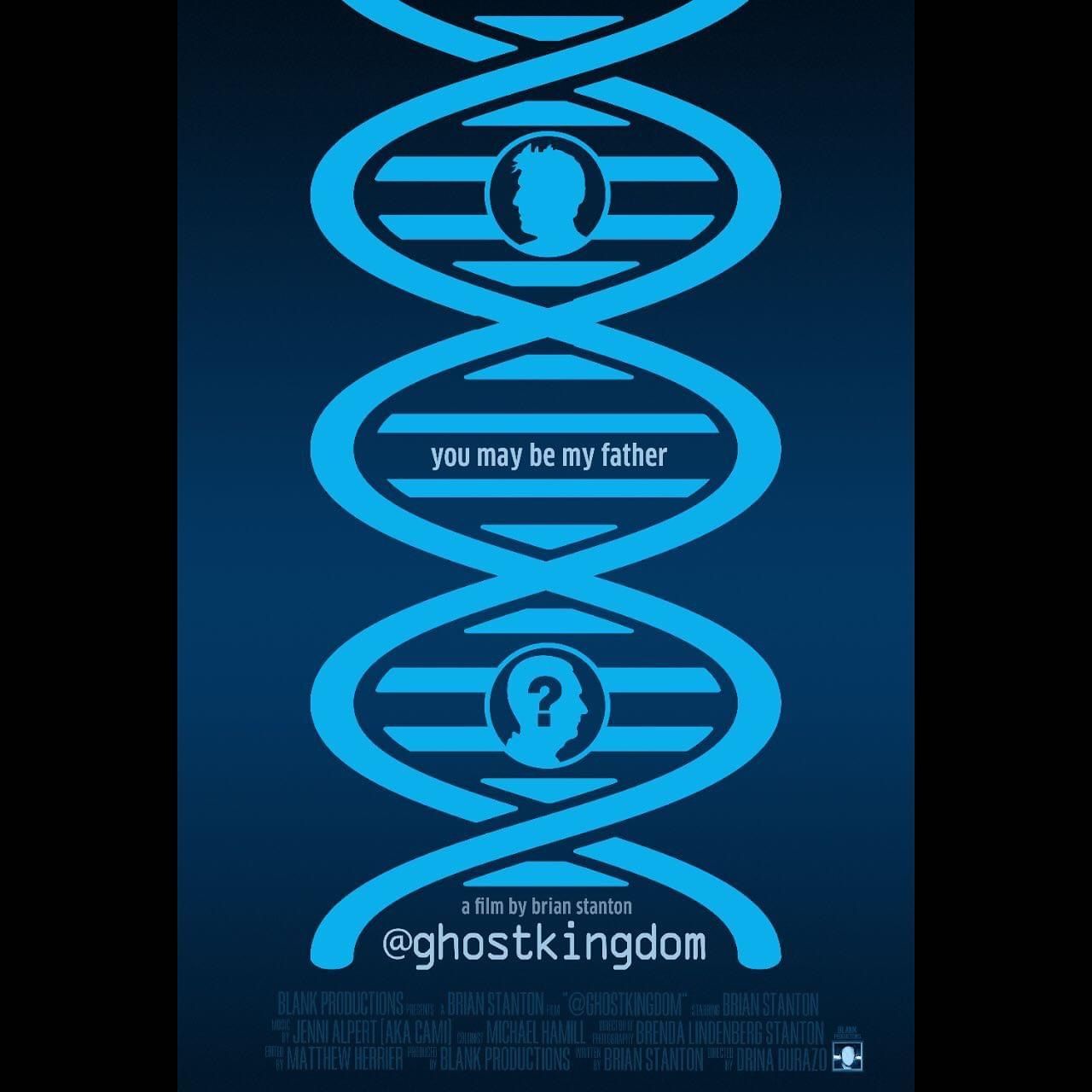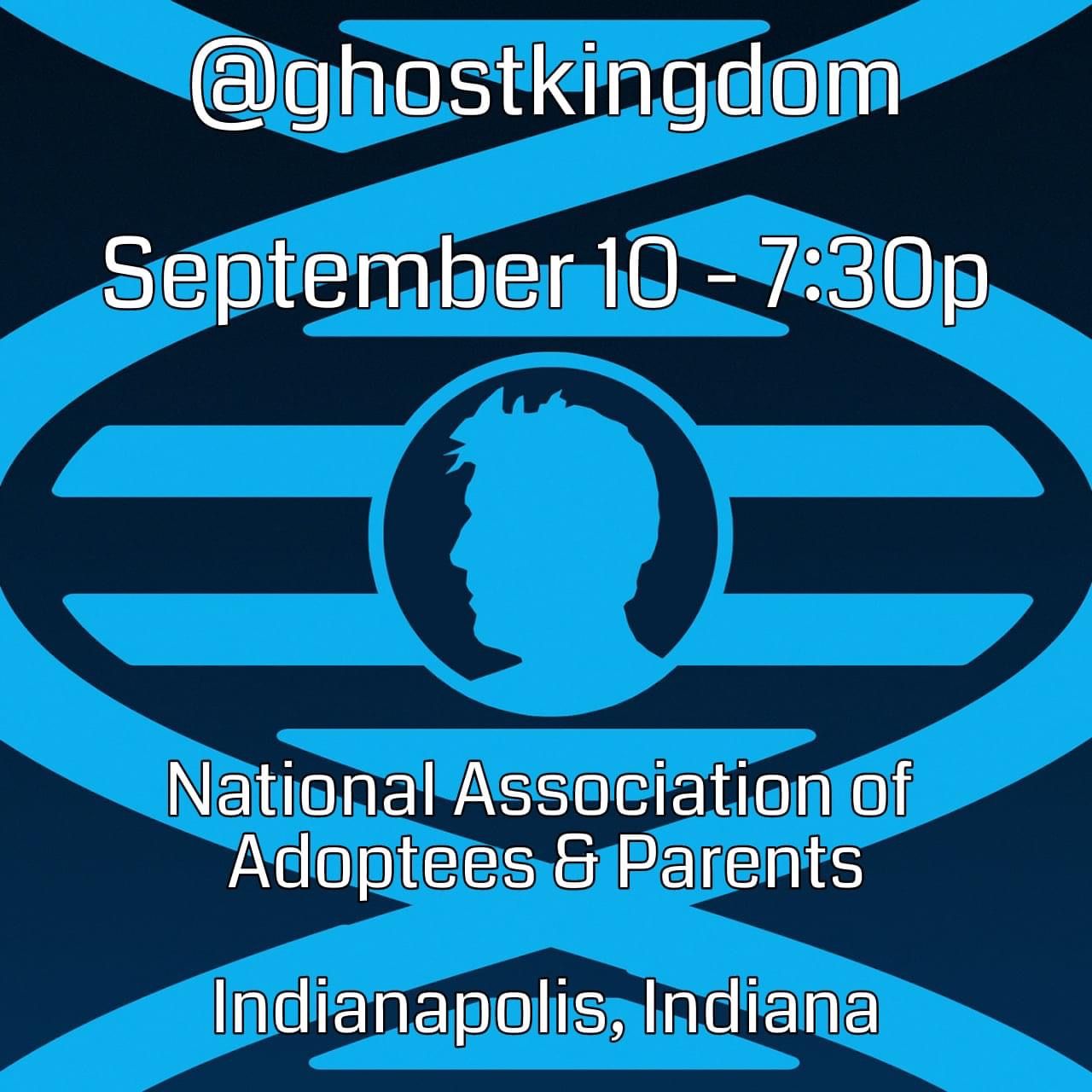 ---