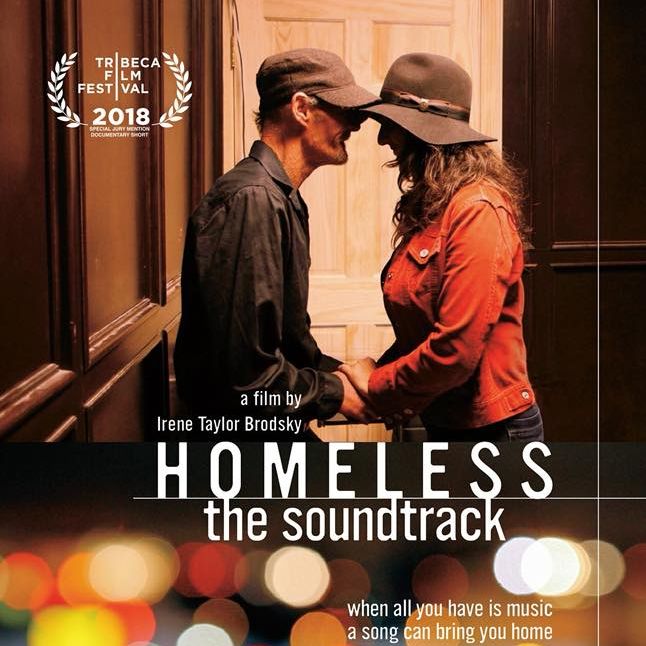 A Short Documentary
The Film
Homeless: The Soundtrack is a short documentary created and directed by Oscar-nominated, Peabody and Emmy Award winning documentary film director Irene Taylor Brodsky produced by Chockstone Pictures and Vermilion Films about the reunion of my birth father and I which explores the dichotomy of two totally different worlds where music bonds together an incredible relationship and underscores an extraordinary partnership after having been separated for over thirty years.

In a world where homelessness is more prevalent today than ever, one biological reunion tackles the impossible. Years after being taken away from her birth parents by the state, placed in the foster care system, then adopted out at age four, singer songwriter Jenni Alpert ("Cami") went searching for her birth father. She finally finds him: homeless, addicted, and running from the law, yet a musician just like her.

Together they embark upon a journey of extraordinary transformation as Cami pioneers a path to her birth father's release from the legal system halting his street crime and cycle of homelessness through unconditional love.

Since their incredible reunion, Jenni Alpert (birth name Cami) and her birth father Don have joined forces to share their story and songs. Their journey continues to unfold in the most profound ways. As they share their musical bond they exude compassion and love encouraging bravery in other homeless people and the general public with testimony and tune along the way. Homeless: the Soundtrack intimately documents their courageous partnership and nestles in the larger pressing issue of homelessness not only in Los Angeles, but all around the globe.

To date, Homeless: the Soundtrack was premiered at Tribeca Film Festival winning a Jury Mention Award, Best Short Film at Nantucket Film Festival, Honorable Mention at Milwaukee Film Festival, and a Jury Mention Award at Rocky Mountain Women's Film Festival.
Home is Where the Heart is, A Biological Reunion Program
Book Cami and Don
Program: Speak, Share, Sing
Home is Where the Heart is, A Biological Reunion is a moving program where singer songwriter Jenni Alpert also referred to by her birth name Cami and her birth father Don, subjects from the film Homeless: the Soundtrack, share their personal reunion journey, speak on many themes related to the bravery of transformation, homelessness, addiction, foster care, adoption, and biological reunions offering encouragement and empowerment to communities at large, screen their transformational photo montage clips and the Homeless: the Soundtrack documentary trailer, perform songs including selections featured in the documentary, as well as participate in an interactive Q and A or panel moderated by a guest host. Book Now. 

Link to Details for the Program