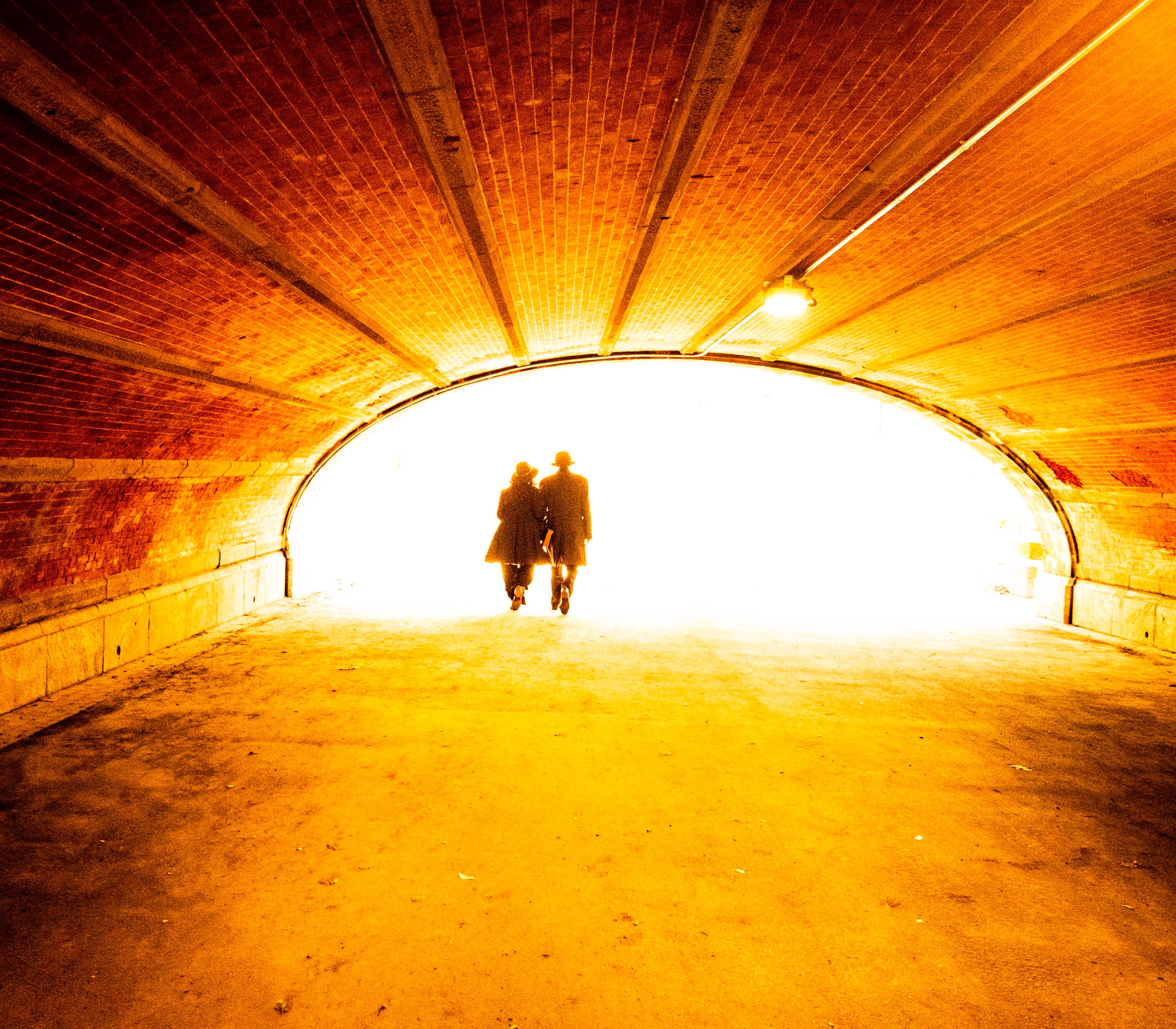 A Labor of Love
Over the course of four more years, our personal dynamic got closer forming an even stronger bond of togetherness as a team, his self proclaimed transformation and my new sense of center remarkable. Don and I began to grow our partnership outward to offer support and motivation to others promoting healing change with creative solution solving. As our journey continued to unfold in the months passing by, I watched the people around me suffer in sinking partnerships, not feeling heard and not feeling a sense of home that was starved for so often and from all that I discovered in meeting my birth father, I wanted to share a piece of what this unconventional unconditional love that Don and I had discovered was. Never once did we desperately seek a need from one another, rather we merely mutually showed up to present and provide and were nothing other than transparently and honestly ourselves with one another mutually providing and sharing what we had and who we are with one another in symbiotic common goal of. And it was simply in the fully being present each day with both ourselves and with one another that made our balanced relationship work so right. One thing I learned most through this profound biological reunion on the journey to finding me inside my adopted self, is that sometimes in the storm of all the fighting - it's more often to be heard through the thunder less than to always be captain of the ship, and in the end what really matters is if we as individuals face and fix ourselves ultimately, this leads to finding and feeling that deepest sense of safety and home.

Documenting the Moments, Homeless: The Soundtrack
As far back as I can remember, a part of me always loved documenting the present in some way to preserve as many moments as possible to make sure they are never forgotten. Instinctually from the very beginning of our biological reunion I was driven to find as many ways to document all the stages in one form or another whether it be photos, short video clips, or journaling to somehow imprint this amazing experience I was having forever. It didn't occur to me that there might be something extraordinarily special about our story until someone else started to pay close attention to our unique partnership develop and Don transform in our journey.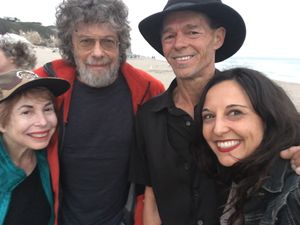 One night by chance at a dinner party back during the early few months right when Don had just started to serve his time in jail and we were in our letter writing phase, I met the influential professional, of the several we would eventually meet, that expressed interest in sharing our story and it's value. When I first saw him I could have sworn I recognized him as his disheveled look reflected that of someone slightly homeless so I thought maybe I had met him before while out on the street. Making me think of Don, I introduced myself and started to share the story of finding my biological father and sharing our pictures with him as this was all freshly on my mind. As it would turn out he wasn't homeless as all, in fact Steve Schwartz and his wife Paula Mae worked on films, felt there was a special story in ours, and connected us with a documentary director who ended up spending a few months on and off with us starting a few weeks after Don got out to capture bits and pieces of our reunion story as a labor of love. At the time I had no idea she was Irene Taylor Brodsky, the Peabody Award winning established director, I just knew her as Irene and her team interviewing us and following us through the next phase of our journey capturing it scene by scene. Later she stated that it was one of the more grueling filming experiences in her career at the time being out there on the street with us due to the long hours and how many things we did together throughout each day but she hung in there and Homeless: the Soundtrack the short documentary was born.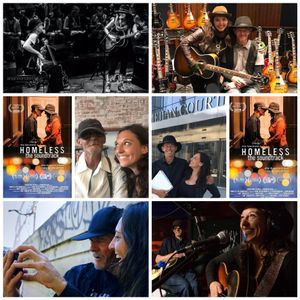 It was really hard at first to film because I felt responsible for Don and his process and wanted to stay aware and focused on him and his safety and well-being being the priority especially early on while his transitions and newly found sobriety from hard narcotics and tie life he lived out there were just beginning as was the relationship with me. To be thoughtful, protective, open, and spontaneous all at the same time was a daily balance but I was able to trust my inner guide and take lead from Don as he really loved filming the short doc too. To this day we are so thankful and grateful at the opportunity we had to spend with Irene and her team and that footage of memories is forever cherished.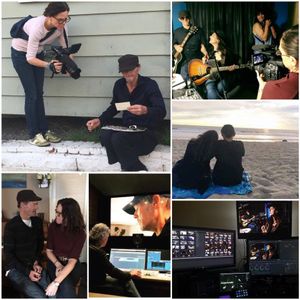 Filming for the First Time
It was actually during our first weeks together we were noticed by a young director of photography, Justin Cornell, as we were eating Chinese fast food on the ground in a parking lot. Perhaps it was the dichotomy of our difference that sparked his interest, or perhaps the connection we had starting from even early on that emanated outward every time we were together. Whatever it was that drew him in when he approached us to ask if he could spend a day or two interviewing and following us around Don perked up at the idea and it seemed a neat idea to me.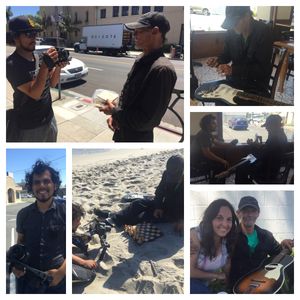 Since I always had an admiration and drive to document moments for the memory of them myself, it seemed more than chance that now here was a talented eye willing to join and capture us from his lens and that was inspiring. And it was his early footage catching our earliest days together and Don's pivotal process of deciding to turn himself in on camera and our photos of those days together that ultimately helped me piece together our story to share this exciting new journey to the producer that I happened to meet those few weeks later.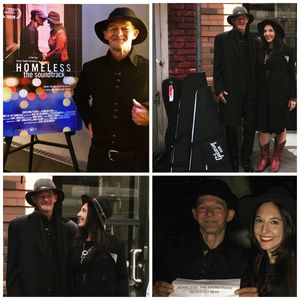 Manhattan, Tribeca Film Festival 
Homeless: the Soundtrack developed into a short documentary capturing nuggets and raw moments between Don and I as our biological journey, our musical bond, and his transformation that began to take place while we were together. And the documentary began to open many doors of opportunity for us to share our story with more people as it began to screen inthe festival circuit. We were even invited to attend, perform, and speak at Tribeca Film Festival in Manhattan, fulfilling Don's life long dream to one day go to New York. For two weeks with the support of the Schwartz', the film team, and some good friends, Don was able to have several amazing nights out on the town and a few first time memorable music experiences in his life. Prior to going out East, I made sure to research all the state laws and regulations as well as all the local police stations and hospitals in order to avoid any possibility issue or incident since smoking and out of state medical marijuana cards weren't acceptable there and our dynamic was still pretty new, and secured us a private flat with a kitchen so I could manage his routine there. Using creative measures to keep Don safe and legal while feeling good and focused felt perfectly applicable for such a special yet important trip. I dispensed small measurements of Patron Coffee XO and nicotine patches became the alternative and to my surprise Don did extremely well. We attended screenings and q & a for the film, saw old friends and city monuments, and performed at several venues from my old stomping ground New York days when I used to hub out of there almost yearly to perform and write music myself.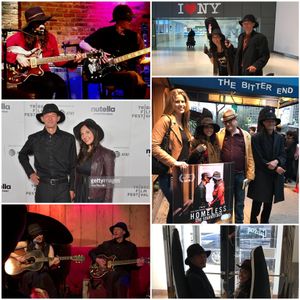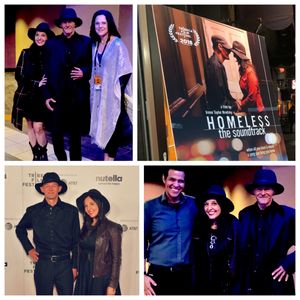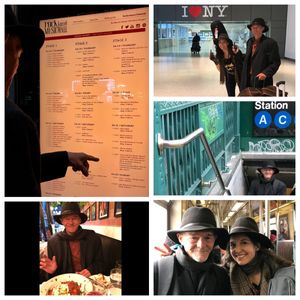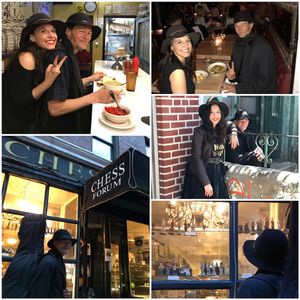 We performed at The Bitter End, The Sidewalk Cafe, and Rockwood Music Hall in addition to performing at the festival and Don even got to play one of the great local players and win a game of chess. Aligning my past to share it in the present with my birth father was extremely profound, like everything I ever did in my life was leading up to these unforgettable moments. It was also truly amazing to me all the support that came out of the woodwork for Don and I, the music relationships I had built over the years as an independent musician all stepped forward with support from Gibson, Daddario, Guitar Center, and Bose, lending us gear and pitching in to contribute something for our experience there which was really special for me. What was especially touching was Sharon who ran a huge portion of the film festival and the Tribeca staff connecting and showing so much such support for Don. I valued so much that it was largely due to her that we were invited to the Tribeca Film Festival personally granting Don an opportunity to experience his dream of going to New York in the first place.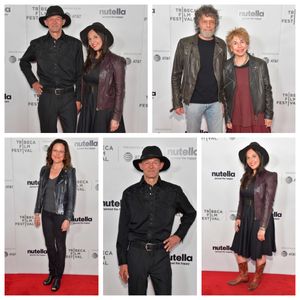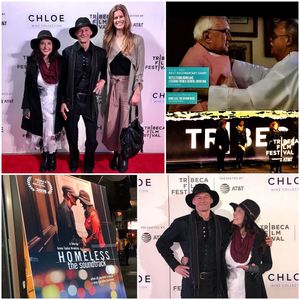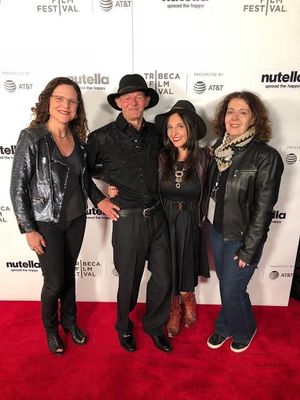 Homeless: the Soundtrack even ended up winning an honorable mention award as well. 
First Time for Don Recording in A Professional Recording Studio
Right before that trip to New York I decided to bring Don to a professional recording studio for his first time to have him guest on a song of mine.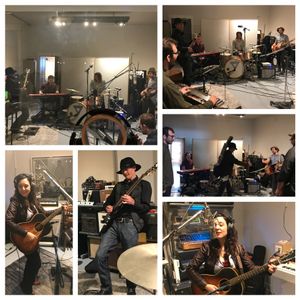 We ended up recording an  EP together live with a full band lead and produced by Drew Taubenfeld with Erik Kertes on bass, Rob Humphrys on drums, and Will Herrington on keys as a favor and ultimately featured Don's own style of playing in the form of a jam. Don then met my close friend Eric Boulanger, owner of Bakery Mastering who I knew since he started working with Doug Sax in Mastering at the Mastering Lab in Ojai many years before.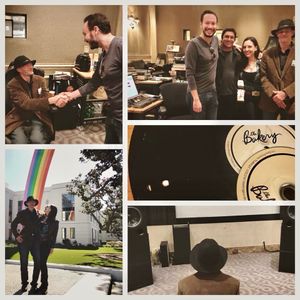 Throughout most of my independent recording career, Eric had mastered some sometimes mixed almost all of my music albums to date and so when he was open to mastering our little EP for us as well, I jumped at scheduling the chance. Because of Eric, Don got to hear his performance in the mastering studio on the big mastering studio speakers as well and that blew him away. Eric also left us with a pressed vinyl.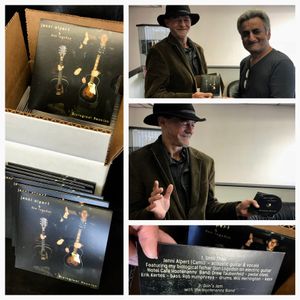 We manufactured that recording along with an interview with Don to CD with my long time CD manufacturer Harout from Hollywood discs, we did a photoshoot with my friend and photographer Jeff Fasano while he was out in LA and prepared to share our recording. It was just so neat to weave Don this deep into my life.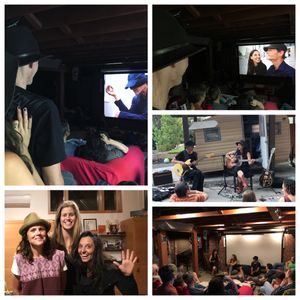 Up the West Coast
Later that year, a few months after Tribeca Film Festival, the documentary was doing well in the film festival circuit in the short doc
category and the director Irene invited Don and I to perform at her house in Portland in preparations for possible future screenings and performances together. So I packed all our stuff into our travel trailer and headed up the West Coast replicating my old indie tour route I used to do back in the day for Don to experience with me. He even ate clams for the first time while we were on the coast and he visited the Jimi Hendrix museum and played electric guitar right outside of it when we reached Seattle. In between all of our coastal adventures, we made the stop at the directors house in Portland for a private screening of the film, Q and A, and live performance for her colleagues and closest friends.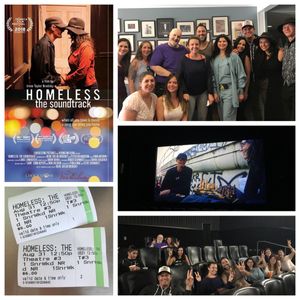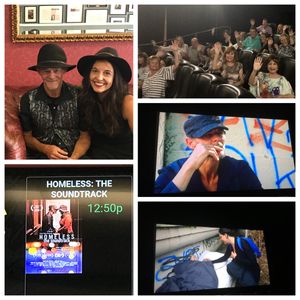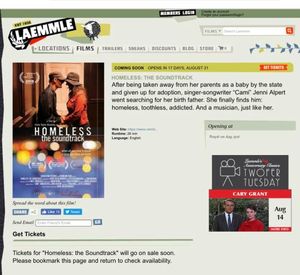 Up On the Big Screen 
Upon returning to LA the short doc had a short run at the Laemmle Theaters as well which was really cool to have friends and family attend and see the film on the big screen. Friends and family came out for that and we were extremely touched by their response and the film's impact.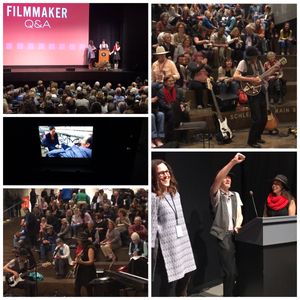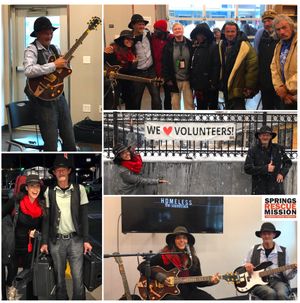 Colorado Springs, RMWF, and Colorado Springs Rescue Mission
Later that year we were also invited to go to Colorado Springs as performing guests of the Rocky Mountain Women's Festival when they screened Homeless: the Soundtrack and then we performed and spoke at the Colorado Springs Homeless Rescue Mission and Don saw his first real snow. He began to process other people's experiences experiencing homelessness a bit differently there when he saw some folks sitting out in such cold. He said a lot of inspirational   things making sure his audience knew he wasn't there to convert anyone or turn them away from being homeless rather he said he wasn't against any of it but that if they could hook up with someone they trusted sometime like how he did with his daughter sometimes the right partner can lead the way to a safer and warmer day. It was never about better, it simply was about alternatives. Though we had volunteered in LA with several centers and regularly now at  Hope of the Valley we had ideas to develop a clearer delivery of our story and message. I was so proud of his profoundness and great skill at speaking that day that it inspired me hone in on a performance program we had started to design together that we were calling Home is Where the Heart Program is with Cami and Don the biological duo where we shared our reunion and transformation journey through story and song. What started out as a 45 minute event first hosted by a college of mine at a temple touching on themes of homelessness and addiction, adoption, biological reunions, and family, and our story in between and it was moderate by a college friend of mine Mayim who was experienced at leading these sorts of things. It was a memorable and special evening. We set up a table with all of the artifacts relating to our lives and reunion and Don performed and spoke especially well. It was also due to Mayim's invitation to have Don and I write a story version of our biological reunion for her online blog which they published offering us an even larger platform to share our story that we further developed this performance program. She had become the first person to successfully employ Don by allowing me to have him write his version of our story for her blog which led to her becoming the moderator our first Home is Where the Heart is Program of story and song. She was always so good to Don.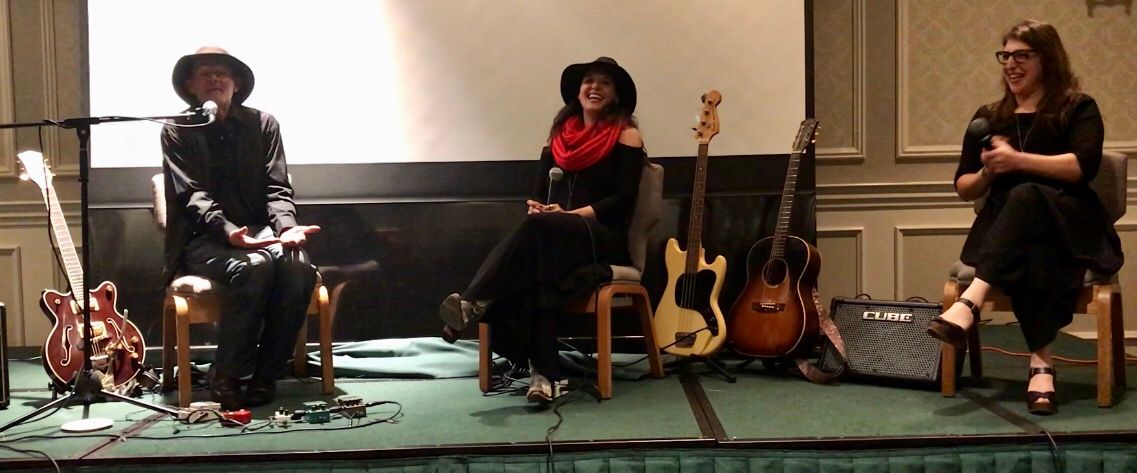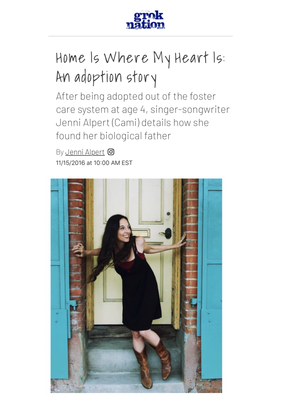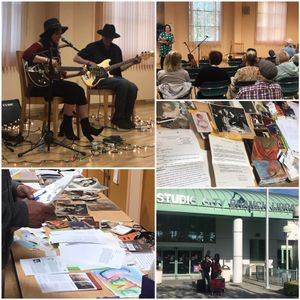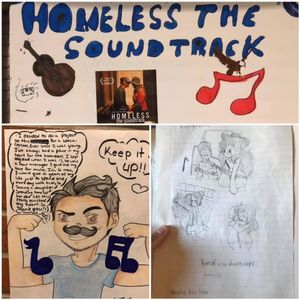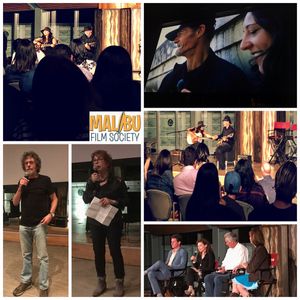 Screenings and Performances
From there we added to our volunteering and began performing and speaking for other events and programs as well as at the Malibu Film Society where the Schwartz' belonged to screen the film and perform and talk about new ways to approach solving homelessness in the neighboring areas. Around this time we were also beginning to cross paths again with foster youth aiding them in writing and recording  songs as a part of their identity building experiences again and it was really great to see Don step up into a leader teacher role model position with them.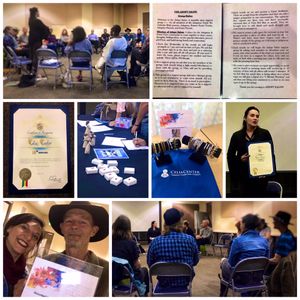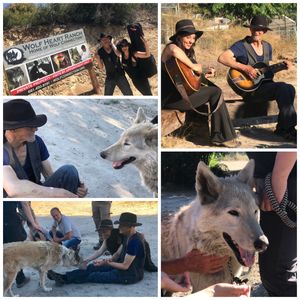 Celia Center, Adoptee Voices, and Meeting Jeanette Yoffe
As we were balancing performing, speaking, volunteering, and teaching,I got an email from a close maternal birth cousin of mine introducing me to a non profit called Celia Center founded by a fellow fostered adoptee who also had been in biological reunion who was hosting an arts festival called adoptee voices and that I should really submit something for it. I barely made the submission cut off date but she welcomed me to play the piano in the lobby during the art exhibit portion and then had me sing heaven to all of the guests while Don sat with me. It was such an incredible night. What is even more special about Jeanette Yoffe is her compassion, intuitiveness, and leadership ability to bring so many people together in a safe space.  In the journey of her life as an actress in New York, she eventually moved to LA, Changed gears, became a therapist, a speaker, and mom, and  built celia center named after her birth mother to aid all members of the constellation in healing and growth offering support groups, educational seminars, annual conferences, and monthly programs including other current or former fostered, adoptees, those in reunion, those still in search, and those deep in turmoil still working things out, also birth mothers and birth family members were invited to attend as well as adoptive families, social workers, and budding therapists interested in this particular field of focus and the work she does bringing support all members of the adoption constellation is incredible. Through Jeanette and her programming we visited and performed at Wolf Connection, we were invited to speak and perform at the CUB (Concerned United Birthparents Annual Retreat), and I began working closely with her as her social media maven maiden as she prepared to host the National Adoption Conference the following year where we spoke and performed at as well.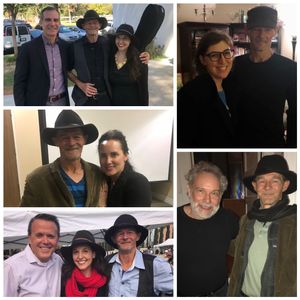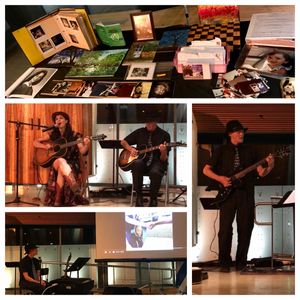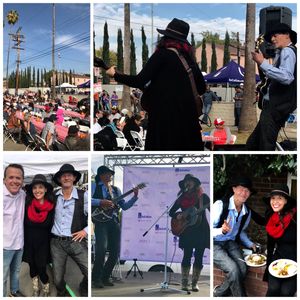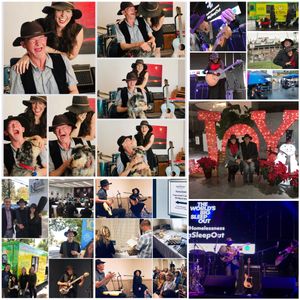 Performing with a Purpose, Caring for the Cause
Around the same time we also met and were invited to interview and film with photographer Jeff Forney for a project about biological reunions called Innocent People, another fellow adoptee who was in reunion, and his doc team who had a documentary project of his own specifically about different biological reunions called  All the while Don and I began receiving invites to perform for a Foster Care Awareness Mitzvah Day at Temple Aliyah, A Homeless Awareness Day at School, A private Home is Where the Heart is Program, and a public one at the Studio City Public Library. We continued to lead Shabbats sometime and performed at  Several Shabbats at Malibu Jewish Community Center, as well as kept visible and around and about in local LA music venues performing in coffee shops, farmers markets, open mics, bars, and established music venues like Hotel Cafe. We joined Hope of the Valley and The Get Together Foundation and performed for The Weekend to End Homelessness where Don got to meet Mayor Garcetti, which later lead to Don and I creating a music and arts program called Fine Arts Revolution Program for some of the youth of the families residing in Hope of the Valley's new family housing spaces. We also were guests of and  performed at The World's Biggest Sleep Out event at the Rose Bowl.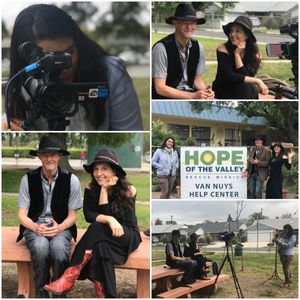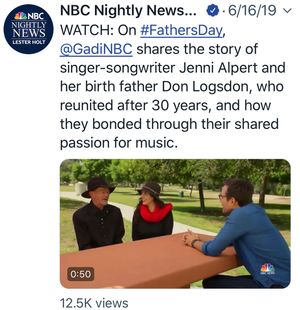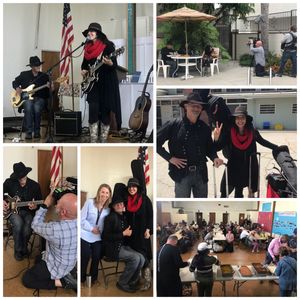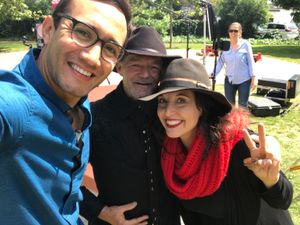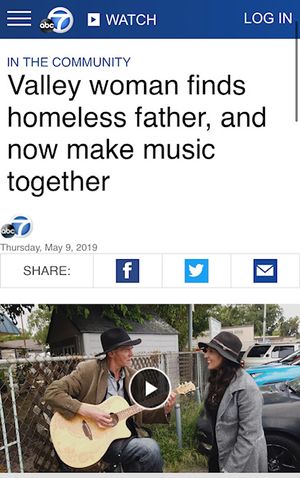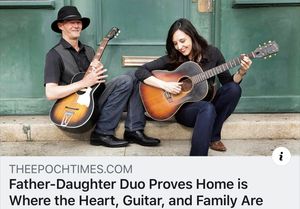 All the while still volunteering to perform and speak at Hope of the Valley's lunchtimes as well as being invited to perform, we returned a third year only now to play on the main stage for their Thanksgiving Bash. This led to an interview with a local news station that spawned a second interview with ABC's news anchor Gabriella Milian which then led to interviewing with Gadi Schwartz and being nationally featured on  NBC Nightly News. As we continued to volunteer and now working closely with Jeanette on programs and blogs I ultimately met fellow adoptee playwright Brian Stanton who asked me to collaborate with him with my piano compositions on his new play and film entitled Ghost Kingdom about the journey of the adopted self searching for birth family namely about his personal journey looking for his birth father.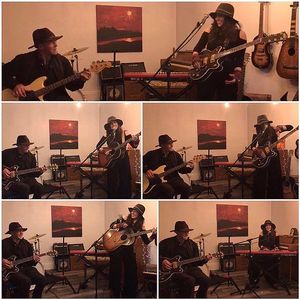 And the years kept going 
As the years passed on, we were able to establish a reliable routine together, each morning making a quick breakfast for Don and coffee for me, a snack with a second cigar mid day, and dinner each night. I came to discover he likes a little bit of everything and insists on sharing with  the dogs yet if he were left to make meals himself, the kitchen might come undone so four years later we made a system that worked well for the both of us. About thirty minutes before I might wake, he wakes from his own space, grab the first swisher sweet cigar I lay out for him the night before as he makes his coffee before his breakfast and eventually when I rise we convene and start the day. During the days, I would find he likes to sit in a space behind my yard in what sort of resembles a fresher version of his old alley ways, keeping a little piece of himself always, setting up his chair in the shade, with sometimes a chess set with books, sits to smoke and chats with his spirit friends while playing dice to practicing winning. It would feel charming to me and I love the sense of just simply knowing he was there.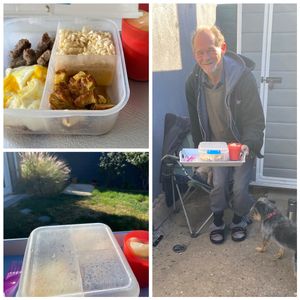 Big Picture Purpose 
I knew from the start that Don's energy and his capacity to learn set him in a good position to be inspired if he was just presented with options and opportunities in a certain way. Looking at Don was, for me, a reflection of myself; he was me if I had not had the tools, the opportunities, the stability and the love I had been given. And together we hope to make a difference for others.
Don: "Though there are some parts of me that will and can never change, since I've met my daughter I am without a doubt a new person. She has let me get extremely close to her and I love and am grateful for every minute of it."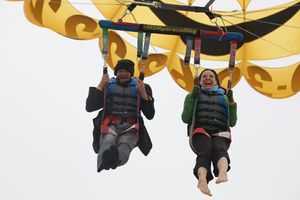 In the last four and a half years we have done everything from going skydiving and ice skating, to watching movies with homemade meals and drinking delicious coffee together, to going to hear some of Don's favorite bands like Robin Trower, Ozzy, and some of mine; Rob Zombie and Guns and Roses, and gone shopping at health food stores together. We've also spent quality time staring out on the horizon just gazing at the stars out under the open sky. We've played music together and spoken to groups about our story and transformation proving to be the most thrilling life journey for me ever. I have had the opportunity to get to know this man in a way I never thought I would and we have learned about profoundness and love as we experience togetherness and closeness based on a sense of understanding and trust that we built together. This formed a bond for me that will not and cannot be broken. Don has guided me, supported me through so much, and loved me for no reason other than I am who I am. It can't get much better than that.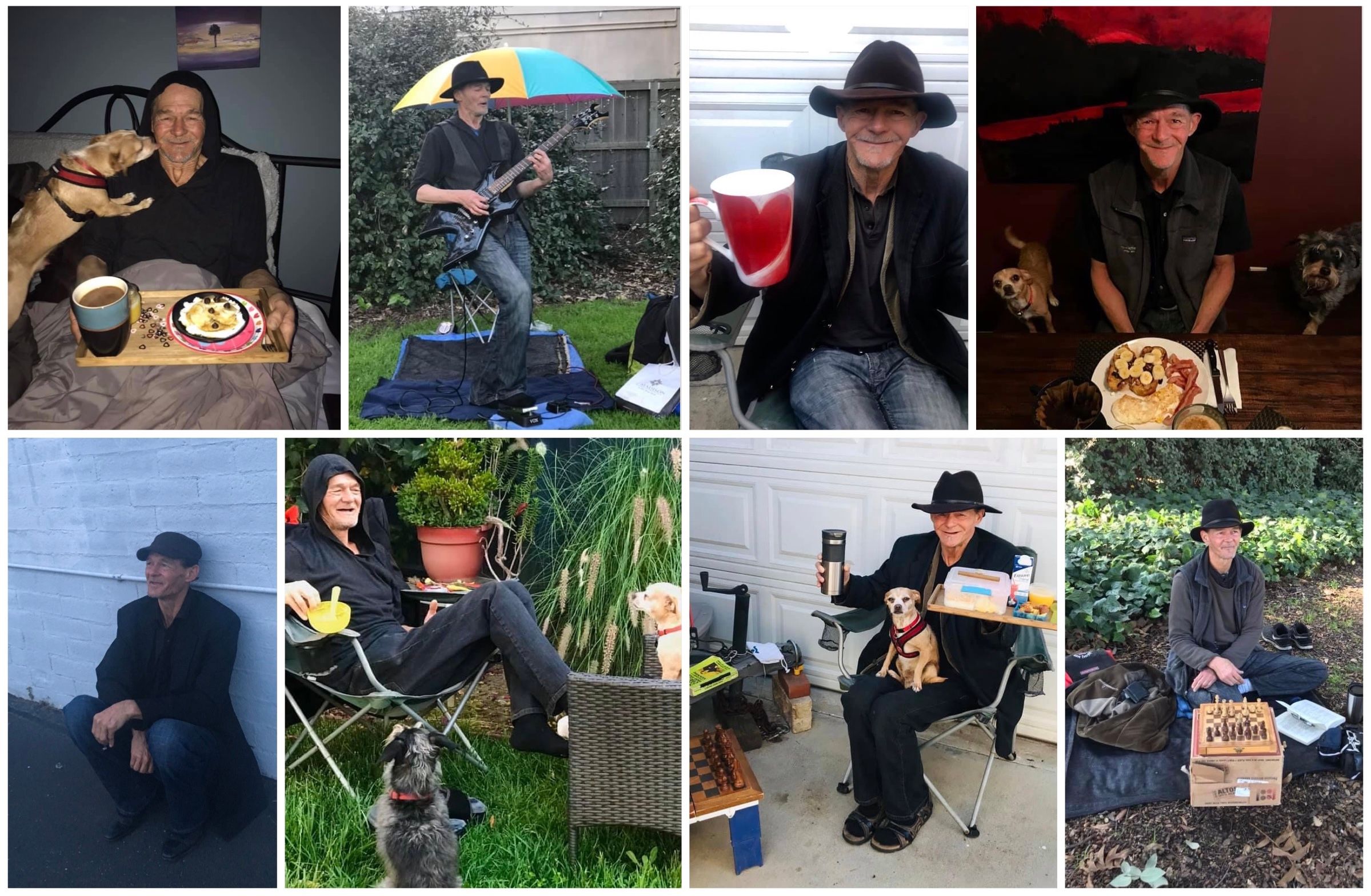 Don: "Since Cami came into my life she has guided me through a new sense of routine and shown me a lot, though some things took a lot longer than before. She helped me do more than you know, she got me off of probation for good, helped me to stabilize my life, and even now she makes sure I have meals, coffee, books, chess, music, and adventure with space to myself each day I feel good knowing she is there. I've never much been a people person and always chose to be alone on my own. And I would never say that my life before was wrong or bad, but my life right now is fuller because I've gotten to see so many things with my daughter and I don't have to worry about getting into trouble every day anymore. Things in my life are going on in such a way that I had never even known before. I also can say I could of never raised her the way the Alperts did and I never could of given her this life either. I'm actually grateful for them. This way of life is sure really different but I wouldn't change anything for the time now with my her."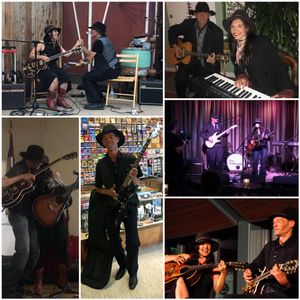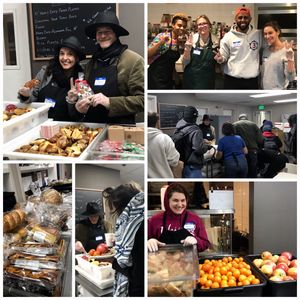 I didn't ask Don to change. I didn't invite him to do anything but if I can open a door of ideas and understanding for him to decide what he wants for himself, then I want to do it and I am proud of the way this approach worked out for us. I think that the greatest gift one can give is to love people in the way that you yourself may never have been loved and love them for who they are and for the best they can be; in a way that fills up all of the unreasonable doubt and questions you may have had. In this way, we get the opportunity to show someone what is referred to as 'unconditional love.' But this really should just be the love that belongs to everyone; it's the love that we all deserve. And the emptiness from my childhood has grown old. The adult me is so warm and filled with so much love and gratefulness. I am so fortunate to have a fantastic adoptive family as well as this new connection to my biological past. The man who now stands at the top of the mountain of transformation really doesn't need to transform at all – for it is really just a matter of remembering and choosing; for love is, in fact, the wings of freedom we give others, and for each other we do exactly that.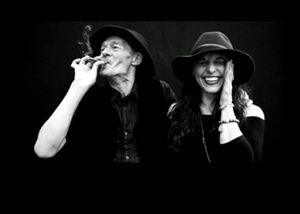 Don: "As it is true one time long ago I said to myself that in the event that if you were born I wouldn't be able to be there for you and raise you, but it is also true that I said that I would meet you later in life and once I did I would give you everything I had and do everything I could for you for the rest of my days.... one message I wrote down to myself that I actually lived up to and made good on."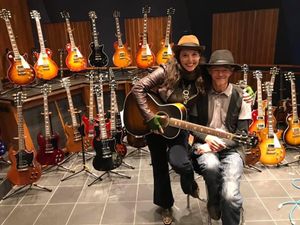 I am now really feel whole and fulfilled because I know that in my life is one of the most incredible and amazing men I have ever met: my biological father. Sometimes, late at night I find myself preparing for life without Don, knowing that I may outlive all the people I love in my life one day, trying to remember what life was like before I met him. And sometimes I ask myself was he an apparition, a long dream I just had, this experience so completely profound. But what seems to settle most in my mind are all the profound presson moments we share, invaluable lessons I've learned, and that nothing is quite what it seems. That it's never about what we have or where we live that defines us, that life is about cherishing the people in it, and the sense of home and belonging we may long for is found where the heart is. That in fact, in the act of transformation we may simply be reverting back to who we really are, who we are meant to be, and who we are to become when love and understanding is there to remind us.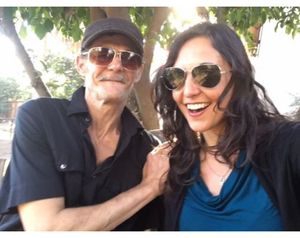 Don: "If there was one thing I'd want to tell my daughter, it would be, "Thank you, I love you."  


*

Homeless the Soundtrack - The Subjects

FIN. PART 2
~ * ~


Cont.


EPILOGUE - FOSTER A FUTURE; AN ADOPTION CONSTELLATION
There are 107,918 foster children eligible for and waiting to be adopted. In 2014, 50,644 foster kids were adopted — a number that has stayed roughly consistent for the past five years. The average age of a waiting child is 7.7 years old and 29% of them will spend at least three years in foster care...
https://jennialpert.com/blogs/lineage-from-the-beginning/posts/epilogue-foster-a-future-an-adoption-constellation