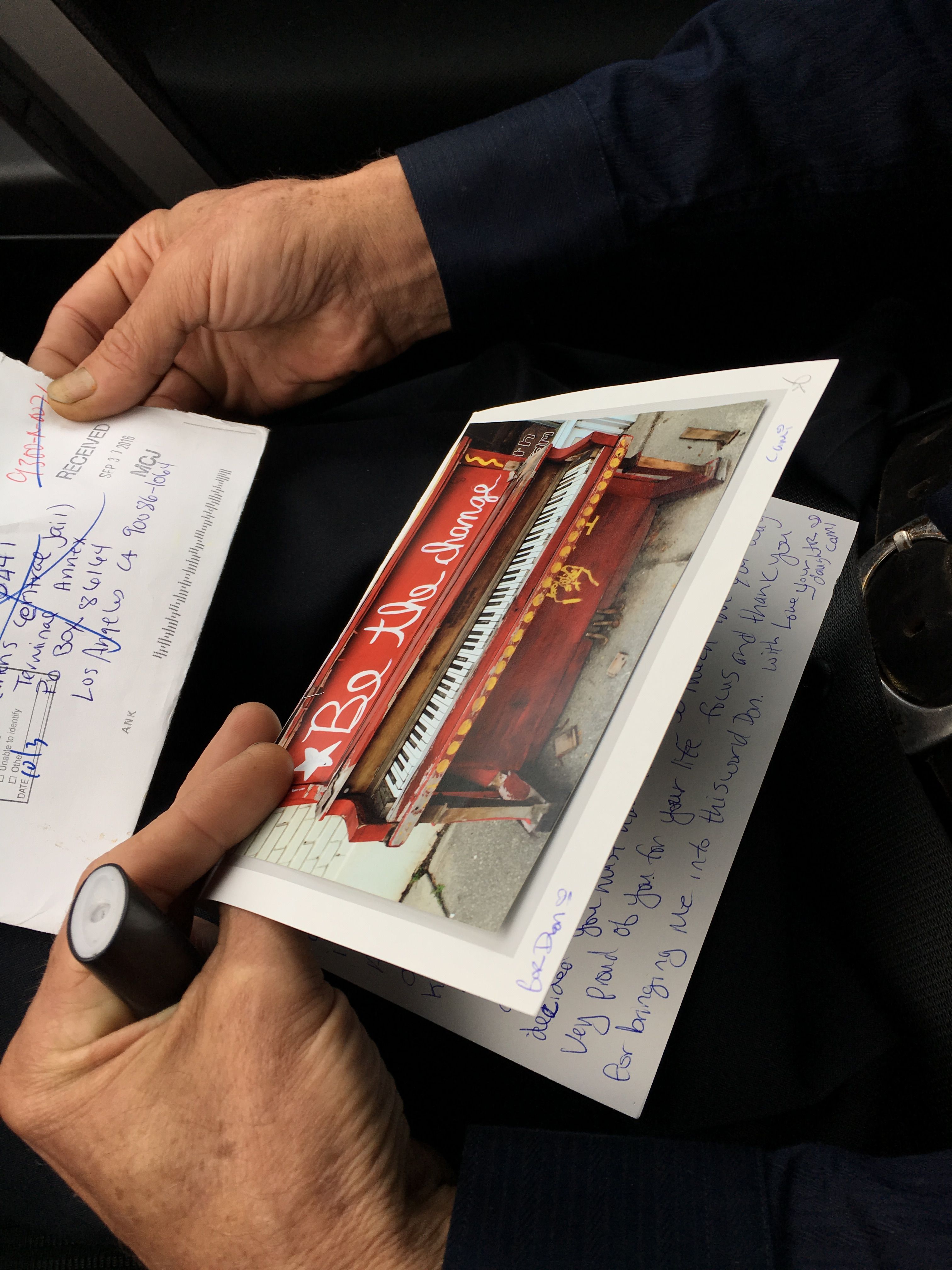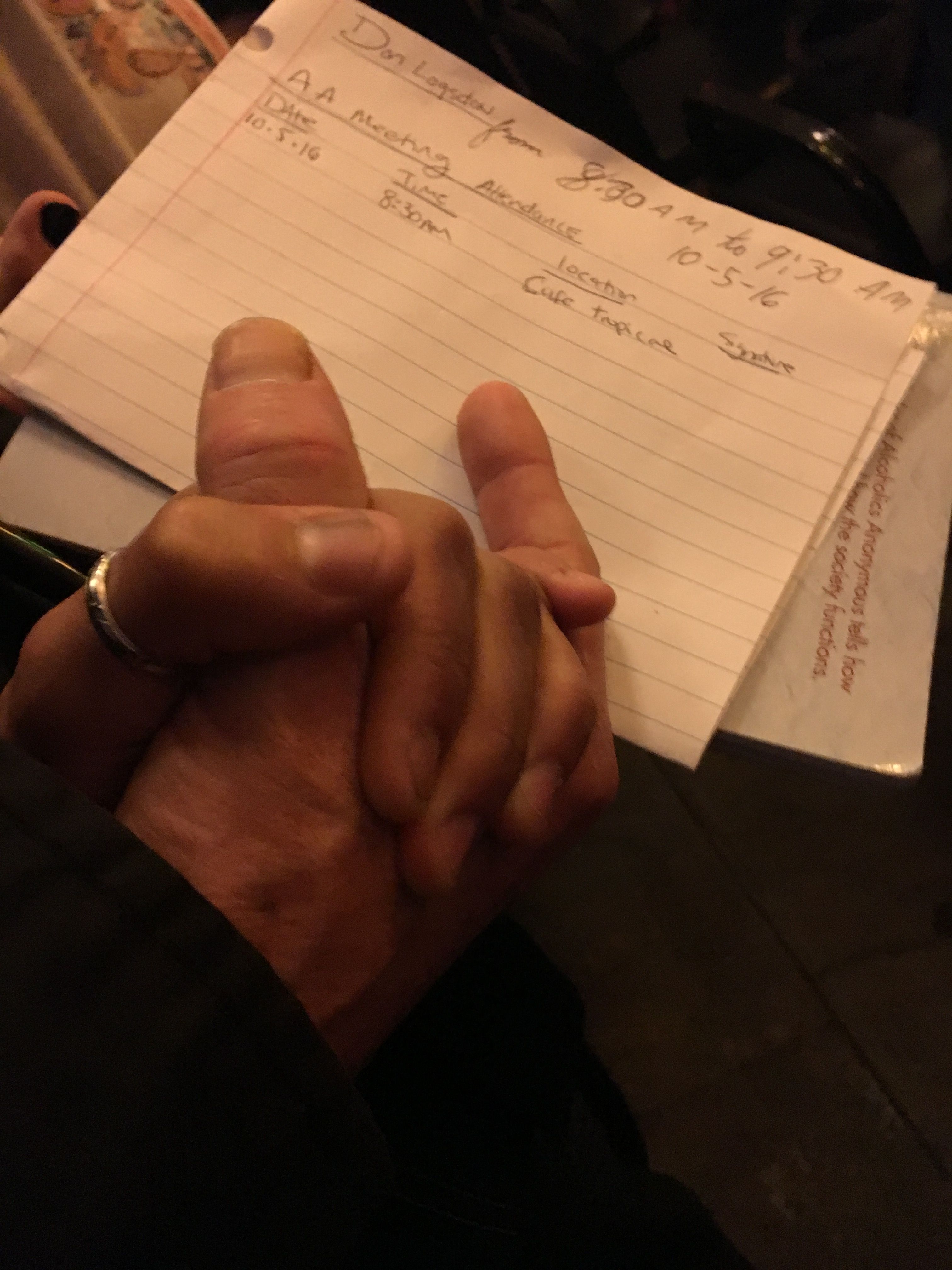 Adventures of Assimilation 
From the moment of my birth father's release from jail, we began doing as many memorable activities together as I could think of. We started with trips to Alcoholics Anonymous meetings where he could listen to stories and speak about his with me as support by his side and a visit to the self realization center. Our first adventure was to the Cuban cafe for a cup of the strongest coffee and to stop into an AA meeting there. I remembered upon my DUI the signature time cards they had to sign so I started a page especially for Don. He loved speaking and sharing his story with me listening there, even though we weren't absolutist for the AA program, I knew he was a chooser much more than a lost user and how to provide the support and attention he craved. Then we drove out to the self realization center as I started to organized our first the start of the paper trail process I began to design for his future court date, the beginning of creating of what I called the Green Folder of Don's Reverse Olson file. We also returned to the library where I showed Don how to make a resume.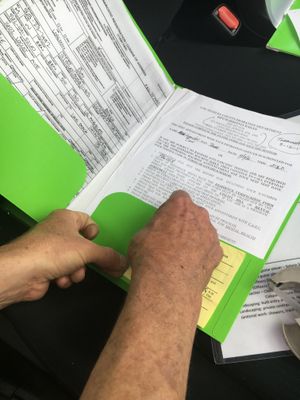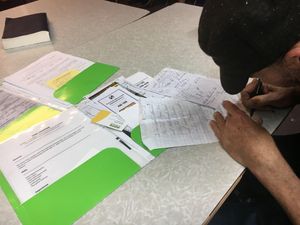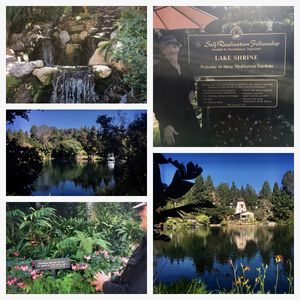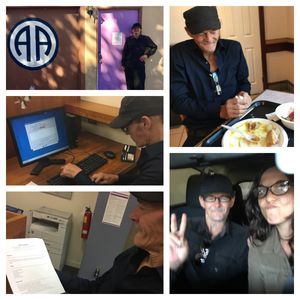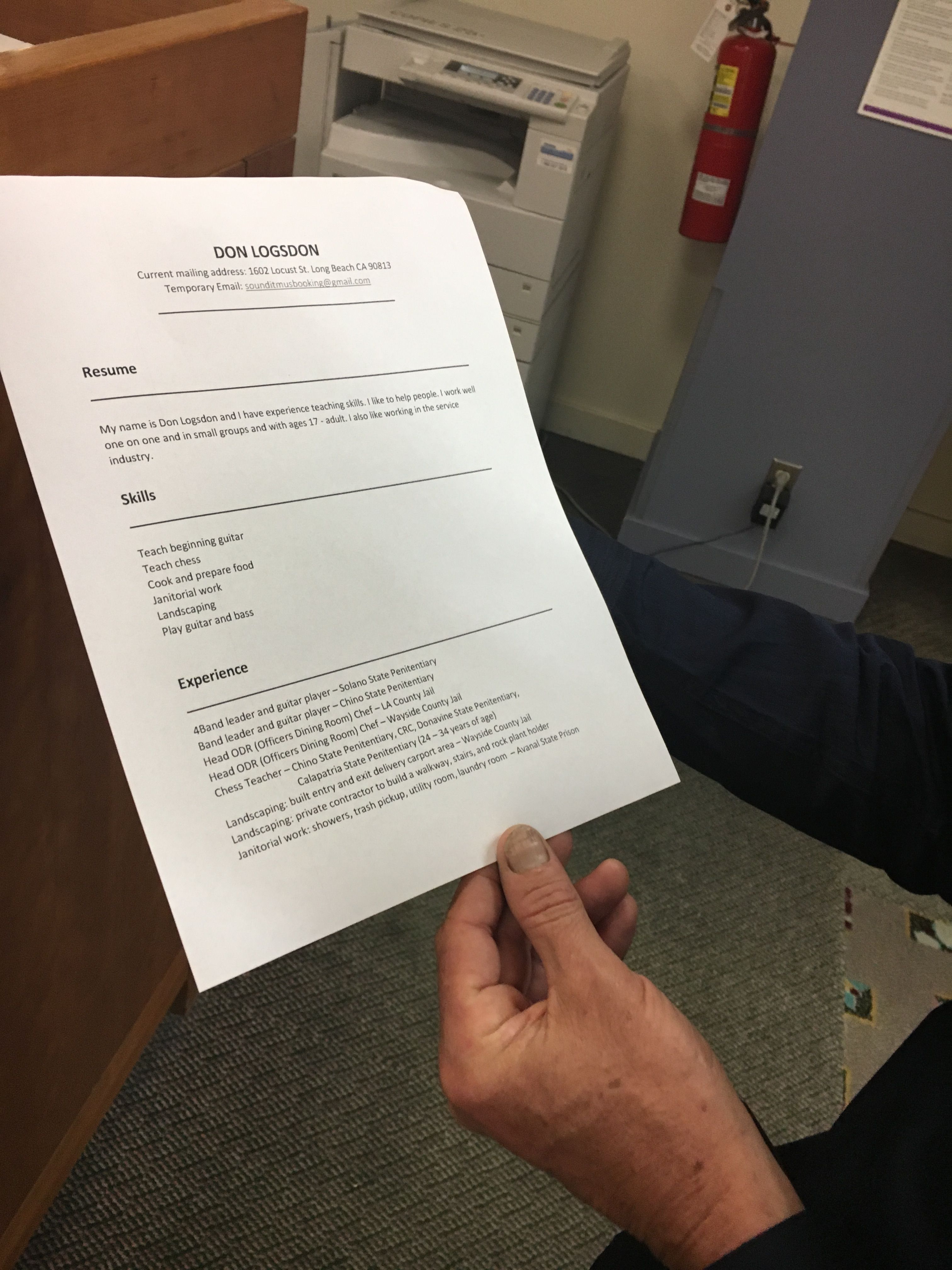 Creative Solution Solving Suggestions
We were also in search of a recovery home where Don could stay for a while so he would have an address and program required by court. But over time as I took him to different sober living house environments and obtained resources for homeless people, many had specific extra requirements if an applicant seemed to fall into a category with mental health challenges by their standards and these demands were scary and of no interest to Don. After observing Don for these next weeks I concluded that he had formulated defense mechanisms to protect himself for survival rather than truly having a mental illness as the prisons who institutionalized for him for his repetitive behaviors as an underprivileged child conditioned him to think, something he would of never thought he was doing. I also came to understand that he was a drug user by choice and his relationship to using was his choice the same as it was his choice when upon finally meeting me, it was his choice to stop. It was at this point when I realized creative solution solving systems would offer him exposure to a world and interactions he never had as a way to slowly assimilate him into society, and if he wanted to, into my life.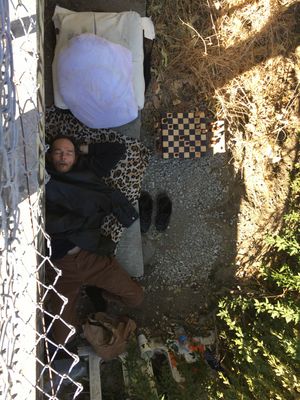 Untented Temporary Times
In the meantime, I had to figure out where he would sleep temporarily, and how he would live as it was way to soon at the time for me to of even considered him staying with me and what was later to transpire. So the first I did was think of all the homeless hideouts Don had described to me and shown me and created a similar styled homeless space for him going to the neighbors of my then downtown LA flat I was still living in for a short time longer, and intentionally created an area of assimilation that was almost a mere replica of Don's previous encampments for us to discover together unbeknownst to him. I had it approved and securely tucked away where there was nowhere for him to go when I left him to sleep at night and arriving back early each next day to get him each and every morning. He was stashed away on the ledge of a hidden hillside a less than block from my home. I didn't want it to be too comfortable for him so he only had a few things supplied, all the while letting him keep the impression that we had found these things by chance. All he had then was a mattress, a pillow, a few blankets, and some clothes, besides access to his things we had packed together prior to turning himself in that I had stored close by for him and a small laminated water proof note with his description and my contact that I had made for him to carry for emergencies.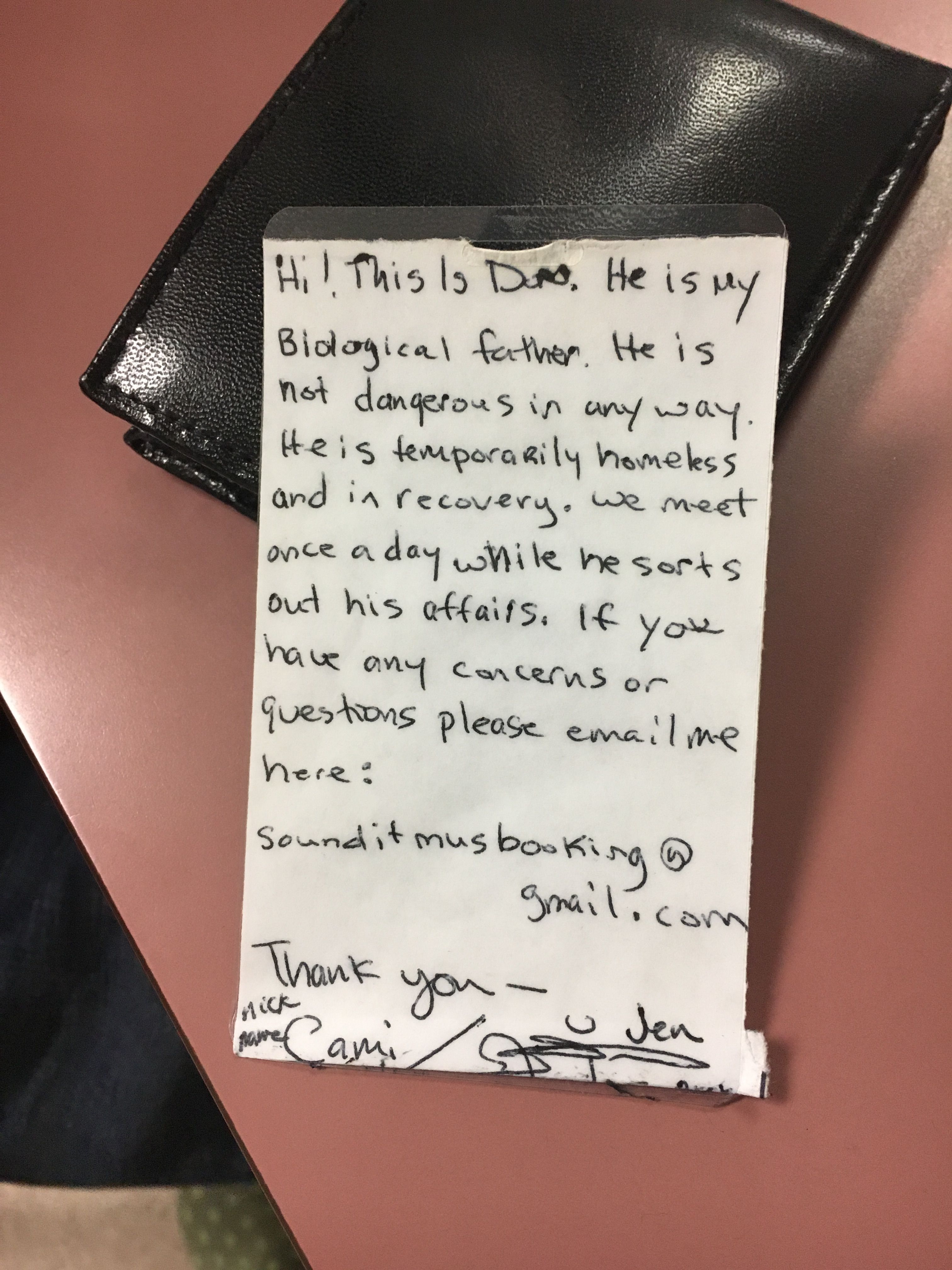 Family Fun Field Trip Adventures Deluxe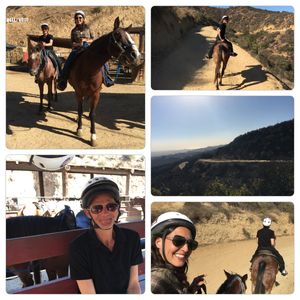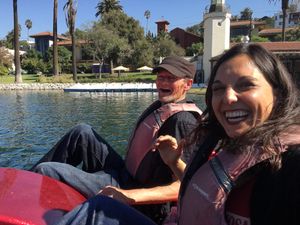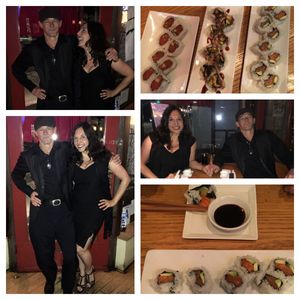 During this window of almost four weeks, we weathered the rain and kept adventure at our feet. We went horseback riding, boating, and hiking as part of our early day local 'family fun adventures'. I would continue to blindfold him into my home so he could not see, and we would cook, and eat, and watch movies. in the event that I might need to protect in the case that he might change back to his old ways, to my surprise he kept following my lead moving forward towards a new life day after day. He had his first Halloween in West Hollywood, his first frozen yogurt, his first In and Out Burger, a clean shower and a shave, with hot meals each day. From burritos to Chinese, to sushi and Thai, we tried everything together, we laughed and we cried. And as we started to explore ways engage with the world in more productive and positive ways. The first stage of this was exploring Don's options to become more self reliant and how he could obtain a small bit of money each month in safer ways to be able to manage his needs and take care of himself. Baby steps forward together towards this large feat.
Music and Chess, he liked to play best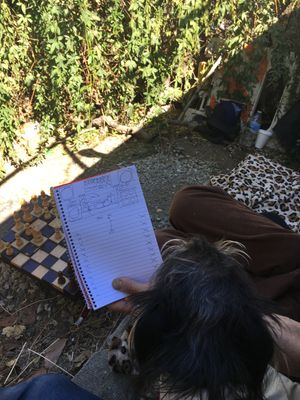 Don was a great musician early upon receiving his first electric guitar, a Tesco from Kmart. A self taught musician, the skill of playing music would protect him for the rest of his life. He also developed a love for chess at a really young age and his skills were extraordinary. He would also teach himself this mostly when he was alone learning the winning  games from all the greats in books that he had found in the library of David R McMillan boys home, playing those very greats in his mind with those books even until this day. This too, would be a skill embedded in talent that would save his life, more than once, from the troubled outside so both of these tools became very intrical parts of our days together both so he could keep a part of his identity and past alongside him as he transitioned with me into this new way of life and so he could bring with him his own set of skills and passions to show me.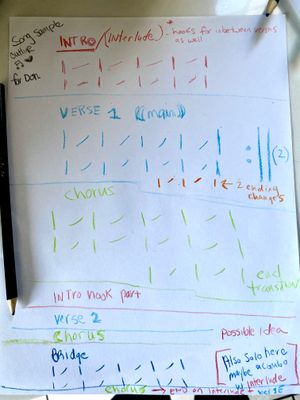 And I shared with him my live in music, my art, and the baby pictures I had kept from my foster and adoptive home.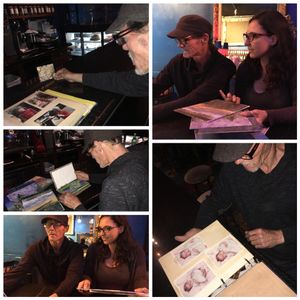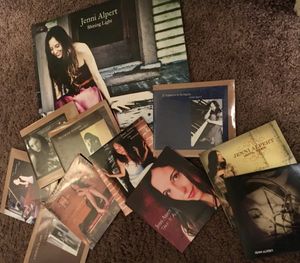 The Good Spirits that Guide 
One of his most admirable coping mechanisms that I picked up on early on was when he would talk out loud to his 'spirit friends' that he later told me that he made when he was a child quite regularly when left in his own safe space, even if just a few feet away. But he also definitely knew the difference between fantasy and truth but these spirit friends would protect him as he processed things in his life from being mostly outside in his youth to locked in the whole in prison for over two years.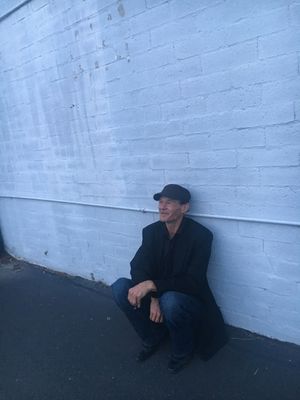 Almost to work out things with himself and between him and the world with me he wasn't a danger to himself and I warmly welcomed all of him. Sometimes he would rock himself back and forth as well when deep in thought so as to comfort himself or simply to relax. Noting these things about him gave me flashes of my own childhood after having arrived to the Alperts, for when I playing with dolls I spoke to myself out loud and rocked myself to bed every night until I was twelve. Apples don't fall far the their trees. 
Late in The Evenings 
Late in the evenings we would talk for hours under the stars at the partial encampment I created near my then apartment in downtown LA right after Don was released from jail as a familiar yet safe step towards assimilation. Often we would share stories with one another about our lives and our thoughts on genetic dna memory from possible lifetimes ago. We both shared similar sentiments of times reminiscent of the 1600's in and about England, he a knight, me a queen. We would laugh of our shared bond and then sit in silence breathing up the cold winter air. One night while we were spending time getting to know each other in my car because of how cold it was, I drove us to a dead end street so we could sit in the warmth of my car and share more stories. It felt so safe and so comfortable there with him, that I fell asleep on Don's lap in the backseat only to be startled and woken up by the cops pulling up to see whee what we were doing illegally parked in a cul de sac downtown. I instantly jumped out of the car waving my hands up I the air saying it's not what it looks like, I'm not a prostitute, this is my biological father, we were recently reunited..... Quietly Don sat on a nearby curb but I could see him chuckling to himself. I had been so nervous to see cops, but he was use to this. They took our IDs and checked out our backgrounds while Don now on probation just having been released a few days prior sat patiently on the sidewalk waiting to be taken. Yet, it seemed there were notes in their computers as to who we were and after some questioning, they simply let us go.
Social Services Support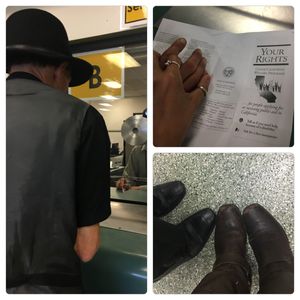 Shortly thereafter we went to the Compton Social Services Building, I as slid into role as his advocate and social skills shadow along with being his biological daughter by now, and was able to secure his first general relief package supporting those out of work (GR) or who can't work with an EBT card that also included monthly food stamps so he had access to food, learning as I went. For months I would drive us down to Compton and wait in the lines with him, shadowing him to fill out each packet properly, guiding him as he turned them in. The process to obtain social services was even hard for me to keep up with. Simply dialing in the numbers took a lot of focus and a very long time to get it all right. Imagine if you were hungry and homeless and high. 
Health and A Real Doctor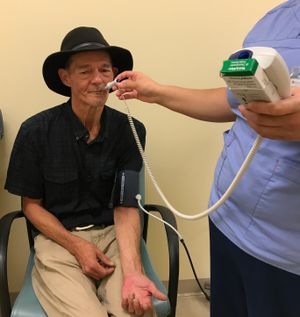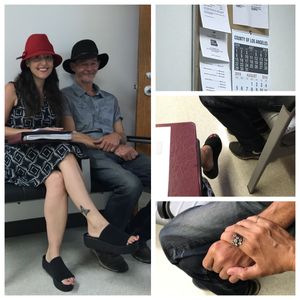 Now that we established food stamps and obtained General Relief (GR) I budgeted his pennies for him managing his life with $197 cash each month and $225 in food stamps to get him the bare minimum without hardly ever coming out of pocket to keep both of us self reliant guiding him towards independence l. Since Don never had a bank account and didn't feel comfortable inside of them, I simply created a portable safe for that and held it all for him. We also got Don medical reinstated so he could get regular health check ups but it soon became clear that he never had a legitimate patient doctor relationship so the next thing we did was secure a primary care doctor through medical and I shadowed him through every appointment as well so he couldn't ask the staff for anything. In the beginning I watched him like a hawk, redirecting and steering him towards safer choices to keep our path on track. Finally a real prescription for an inhaler for asthma that he really did need was legitimately his. It was at this time I realized that he had never had a trusted doctor that listen to his needs at the same time he never had been on a doctor visit honestly. This was the start of the medial paper trail Don needed for SSI application and more long term security later down the line.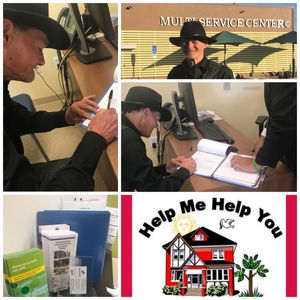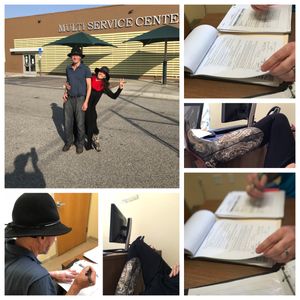 Hope of the Valley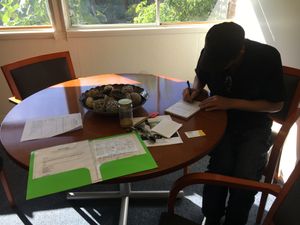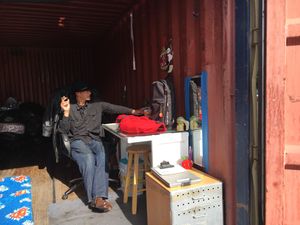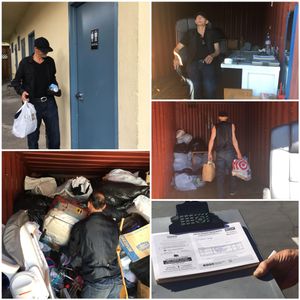 We discovered Hope of the Valley truly by chance through the AA meeting book one day while I had been searching for a new one for Don to attend while I was planning on running some errands nearby. Turned out this one hour stop turned out to be one of the best and most fortunate stops we made. There Don not only got an hour in for the AA meetings I was initiating he attend for the court, but he also got a showers, some used clothes, a hot lunch, and ultimately an amazing set of resources that they later gave us upon our return. We also were pointed into the direction of where to get for free meals daily for Don as well as  free groceries which really helped in the early stages of budgeting since Don didn't have much and my goal and role was to shadow him towards self reliance not save and take care of him. Sometimes the groceries would be old with bugs so eventually we stopped picking up bags at other places but never did this happen at Hope of the Valley,   they always made sure to provide hot lunches and resources daily, and it truly was this amazing place. Almost instantly we met Laurie Craft, the Chief Program Officer there. She helped us get Don into a transitional sober living bed at a facility in north Hollywood after we had visited a more rigid one that required to many mental health check ups and meds that wouldn't of worked well for Don. We were on the search to secure something for the judge since he didn't end up getting into Beit T'shuvah based on what their program provided there and at this time though I had started to transition him into the inside where I was now staying in Studio City and was still blind folding Don for the same protective reasons as before, so he couldn't come and go as he chose, but also had the freedom to turn about face and return to his old life with drugs If he ever so chose to, no hard feelings keeping my life with him in still separate and safe. Laurie was an incredible help.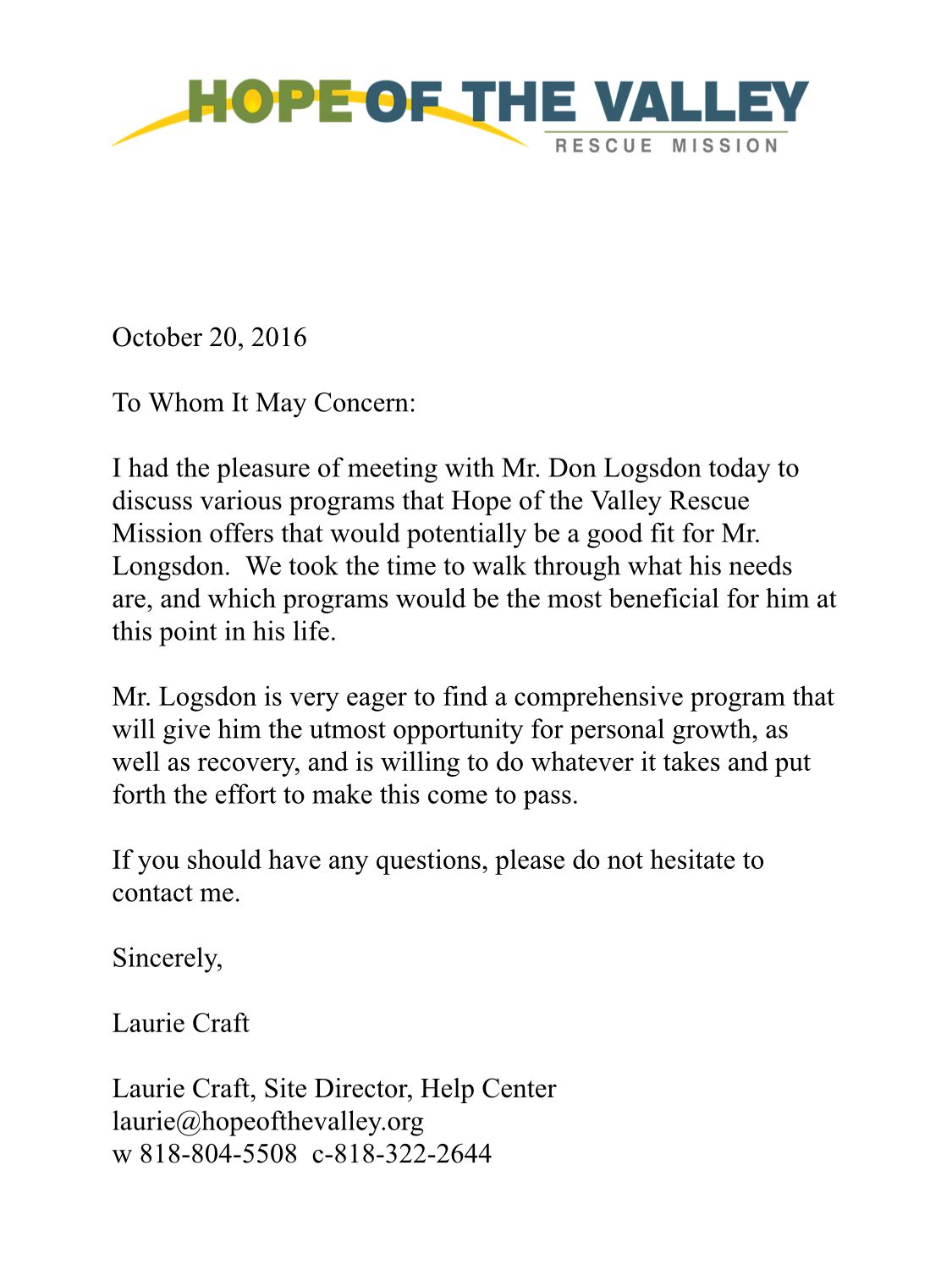 In our search for a safe living space for Don before we decided that it was best and easiest to stay with me, we checked out a place called Stone which didn't designate with Don because it was more of a mental health sober living space with lots of regiments and rules. It was about this time that Laurie from Hope of the Valley offered to introduce us to Gino the head of a sober transitional home for men in Burbank to see if this was a compatible spot for Don. We met Gino at a nearby starbucks in Burbank and jumped into 4X4 truck to visit the space nearby to which Don seemed comfortable enough in. They had group meetings once a week, rotating chores for the shared communal space, and most of the men paid something for a bed. Since we had only just started Don on GR (General Relief) support and food stamps at the time, he had about $197 cash relief a month and $206 for food stamps. I managed his needs and necessities with that and donations for over two years before upgrading him to SSI at the end of the third year. Once Don approved it he men's transitional home, we moved him out of the selected bushes that was a transitional space towards indoors living, had him stay with me for a few weeks while we set up his next transition nearby my then condo, and proceeded to check Don into Hope of the Valley's Men's home in Burbank which ended up being close to a two month stay before we realized ultimately he was better off with me, all or nothing. Yet, it was the best option to try out the transitional home to obtain an address for the judge and with that we set up an agreement where every Friday Don would volunteer at one of Hope of the Valley's donation centers in exchange for his bed. The night before he was to move in, I went to the store, got a few plastic bins, filled them up with toiletries, packed his clothes, and gathered blankets for his bed. Each day I would be there at 8am to take him around and about to different activities and appointments and each nigh just before they locked the doors shut I would drop him off to rest to see how things would go for him. It didn't take long for him to decide, however, to fully stick with me.

Though the beds cost $500 each, Don essentially had no money so I negotiated that I would shadow him at one of the Hope of the Valley donation collection sites for him to earn his space.  Often I would shadow him there to make sure the responsibilities  would get done and other times I would stay close by and see what he could do alone. Most of the time he did better with me there so to keep him busy and focused when donations weren't being signed in, we would play chess and cards and read together. One slow day Don even allowed me to encourage him to write apology letters to anyone he thought he may of hurt. These too were included in his reverse Olson file I was making later for the judge. It would be during this period that I got a good idea of where Don's independence would shine most.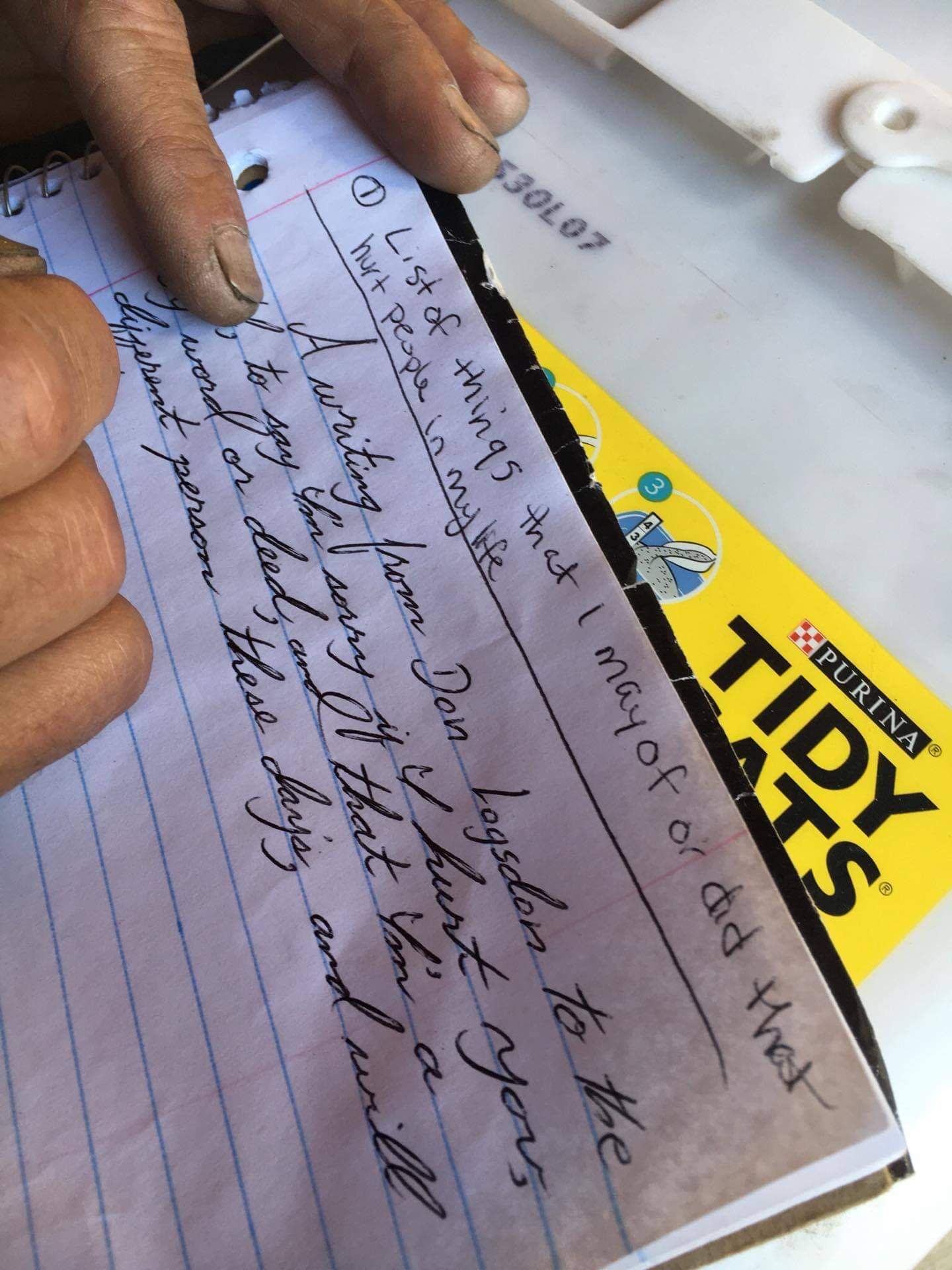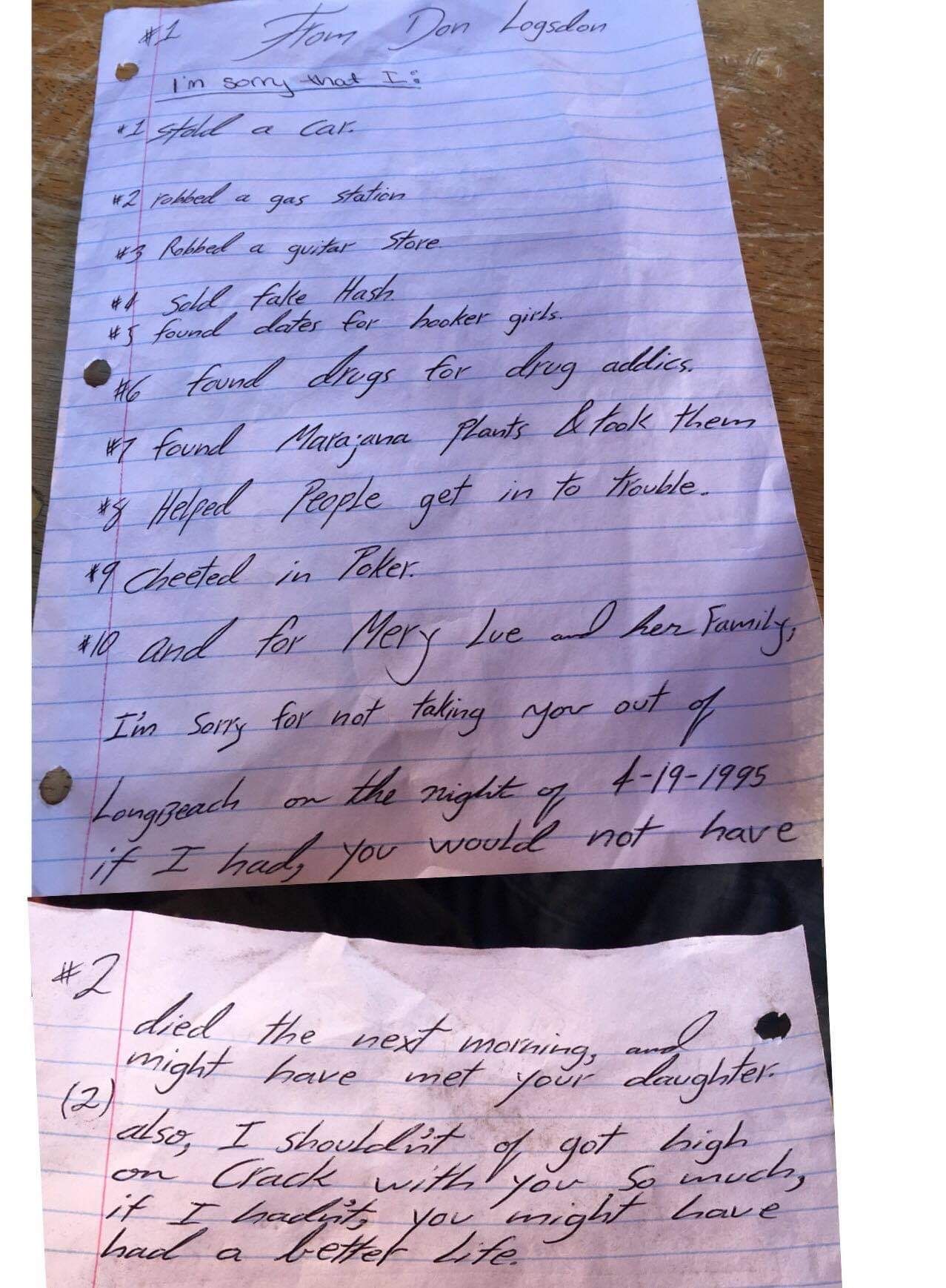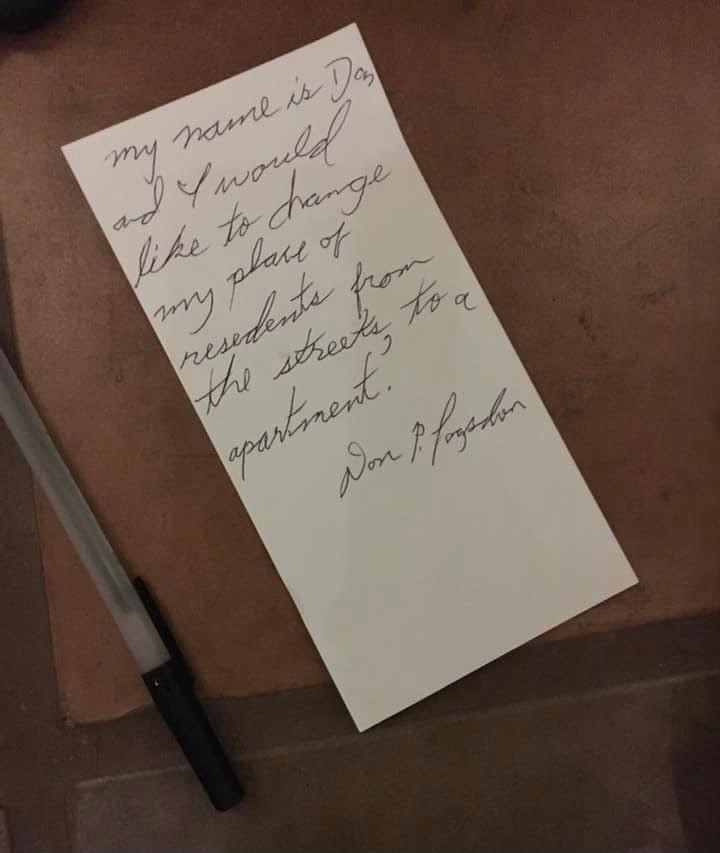 But the sober living gone became scary there for Don and one morning he figured out a bus route out with the help of one of the other residents there despite my requests to not discuss things like that for his protection, and he ran away. This was an extremely scary moment for me because now anything could happen to Don and this also confirmed the reality, the common assume of what would happen, that old habits won't ever die and that drugs and Don's old life would eventually win him over. But I didn't give up, I just couldn't. I spent the whole searching to find him starting with visiting the emergency meet locations we set up together at the start of this journey for the just incase moments, just like this. See Don didn't use phones and wasn't really up on technology. Phones and computers were such a challenge for him and simply took too long so planning ahead considering his methods of thinking was something I constantly did by this time. My heart was in panic though, and I went to every single spot we had ever been to. Twice. I searched until night fall and absolutely could not give up until I found him to make sure this was the choice he'd really want to commit to after how far we had gotten by this point. I just wanted to look him in the eyes and softly ask him for certain if returning to running was really the life he wanted or if perhaps we could together negotiate  and create a new life that felt right for him. Finally, literally a shadows step behind him the whole day, I found him around ten pm that night, drunk and sleeping outside on the door stoop of the dwelling where he used to frequent. One step forward, two steps back. Luckily, I found him in time before the cops did as he was still very much on probation and heavily watched even if at a distance because of me, but I had the chance I wanted to give him the option to keep running or return blind folded back with me. Probation officers don't care about if you made a mistake, they care about  the safety of others, they care about the law. And when on probation, especially when on Ab109 both drugs and drinking are simply not allowed. But I knew with parameters of regulation and a new system full of love there was a chance that Don could have a life he had never before dreamed of. This was the turning point for me as well. I knew if he was to see real transformation it would only be by us being together and it was an all or nothing moment. I realized in that minute that either he was to come with as his advocate and shadow or nothing at all. It didn't take me but three minutes to decide. 
Probation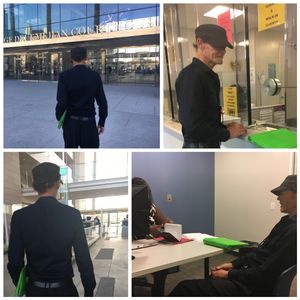 Don was put on probation for a year, the standard length for drug and absconding charges and consistency and following protocol is really all that matters. But it is not easy. You have to know the schedule, know the location of every appointment, you have to receive your mail. You have to keep organized, and socialized, and motivated to not fail - which is nearly impossible for most offenders, especially those of Don's kind. Don's weekly probation meetings and testing converted to monthly since I as his advocate and social skills shadow, now in the picture.
Upon Don's initial release, it was first Officer L who helped us through the process with phone calls and emails to figure out the next steps for Don would be and informed me of his new assigned probation was, Miss Officer B. I started advocating on Don's behalf, emailing to scheduling these meetings for him, then each month I got him ready, drove him there, and shadowed him socially inside the police station sitting with him all the way through each one so I could help him complete each step of this and to know all the risks if he were to make more mistakes. Why those officers let me do this, I am not fully sure, but I am so grateful that they did. And I do believe that every offender who may need an advocate and a social skills and processing shadow to help complete requirements like these would be a really positive program to devise and implement one day for special cases. Those two officers went an extra mile to communicate back with me on Don's behalf and let me do what J did. And Officer B was really a Godsend if there ever was one because she allowed me ample freedom to guide Don and help him in my own creative solution solving ways through this whole process for a whole year, something never been done before.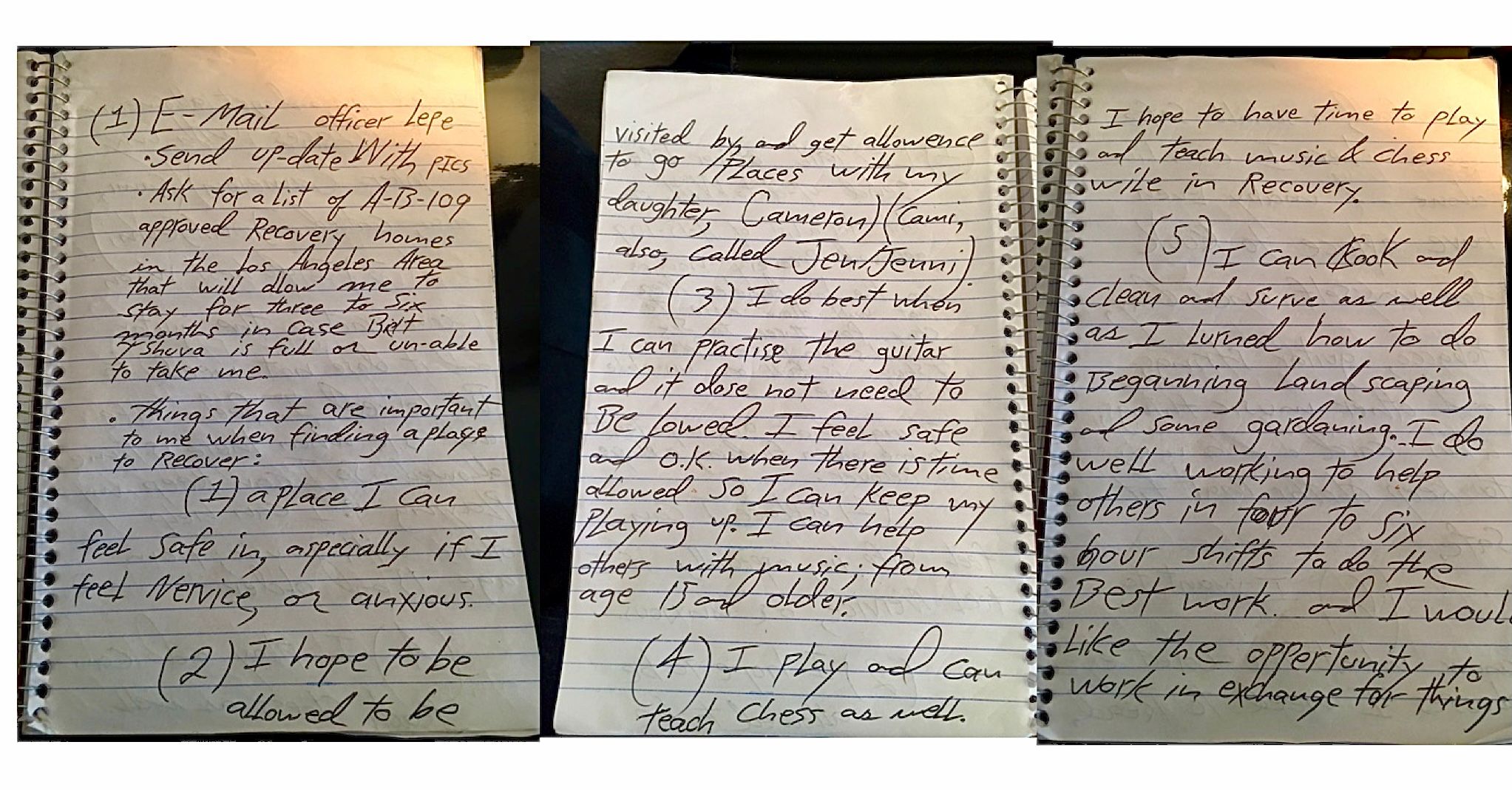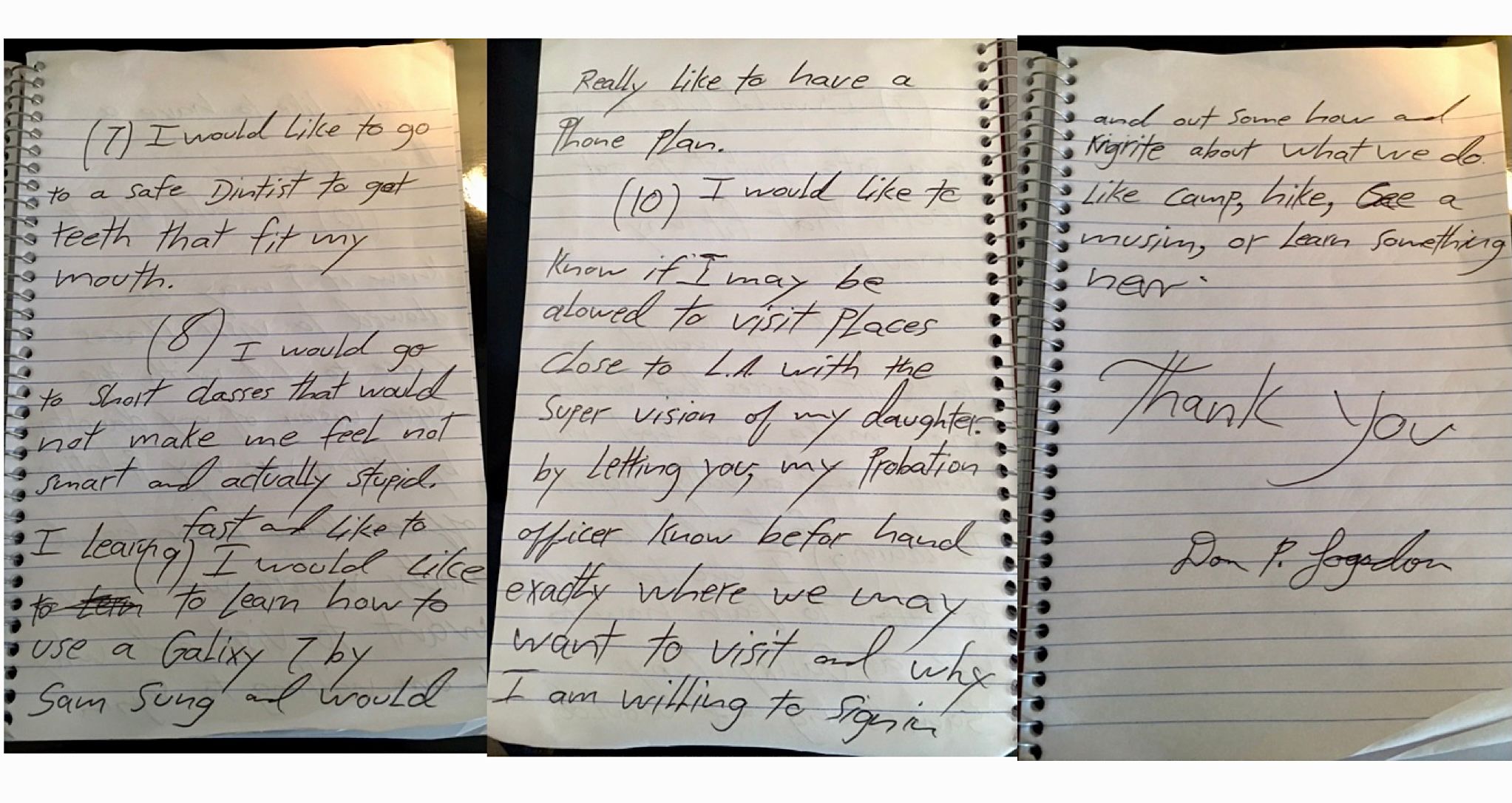 Daily then weekly I emailed details and photos to kept her informed of our whereabouts and activities, of his progress and perspective, and all the good things he'd done. She even eventually honored the Jewish custom we shared with Shabbat letting me give him small bouts of wine in measurements for him to feel still as himself and later allowed a medical marijuana card when it became legal so there was no pressure for psych meds or to be totally dry as long as I measured and managed the supply at the proper times. It was all in the parameters of the delivery and framing that worked for us. I knew it wouldn't work for everyone, most drug addicts go back and that is a fact. But Don defied the norm in his own ways just as I did. Don also learned all about my Jewish side of life, learned all of the music for the Shabbat Services I occasionally lead and joined me weekly for a long time as we were even given a residency at what Don would call Temple Beth in Highland Park. I'll always be forever grateful to that board for letting us do this, as sharing in the culture, music, customs, and holidays became a huge part of our bond. His probation officer also also eventually granted us passes to go camping so I could show Don what real camping was like to assimilate him more into society's light. We also visit Santa Barbara, San Francisco, Big Sur, Santa Rosa, and Humboldt, eventually picking up a small travel trailer offered to Don at a quaint sweet RV park up there by a special person named Butch so he would always have access to a roof over his head, though by now even still blindfolded he was living with me. We called it Safe Space Don's Place on wheels.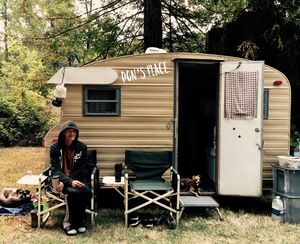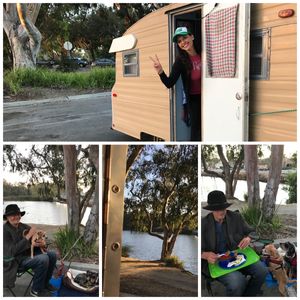 And while yes, abuse of power may be a legitimate concern within certain stations, jails, and prisons around the country in the police force, these officers to me never instigated those thoughts to cross my mind, rather theses very Officers represent what good cops are. They too are up against so much particular to their situations themselves while working to make this world a safer straighter place, their lives on the line, and personally I am forever grateful to every single one of them for the chance they took on us, for what they did for Don, and for what they did for me.

Creative Solution Solving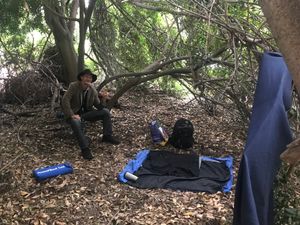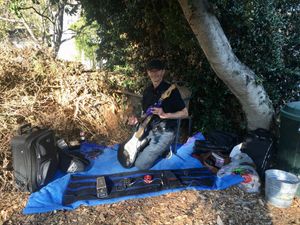 As I began to integrate and assimilate Don into my daily life those second and third set of months I also moved back to the valley in a condo I had and brought Don and the blindfold concept with me. In order to balance my own life separate from his, my jobs, my friends, my family and such, all the while Don's preference for the outdoors prevailed as well as leaving Don at all my home unsupervised was not an option I chose until years later when trust and routine was deeply established and embedded. I sought out far away protected secluded parks where there were no ways to leave or wander about near my appointments where I would leave Don for a few hours at a time. I called these areas that subtly mimicked how he used to live, a temporary safe space Don's place while I would go and handle my responsibilities.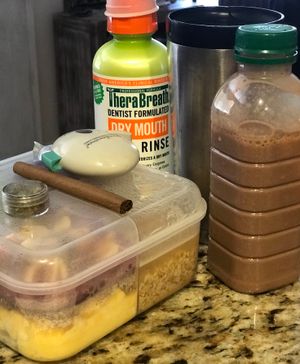 I would pack him a lunch, coffee, candy to go and a cigar of course as two a way was the agreed upon limit, and a backpack with chess, a radio, books, and some games and often even a box with his music equipment. Once it became legal, he was also granted a medical marijuana card which was really helpful for his anxiety and comfort level so we worked together for weeks to process the difference between medical and recreational behaviors and agreed also never to talk to or take anything from strangers to keep him as protected and thoughtful as possible. It may sound a bit juvenile but really it was important discussions to have to devise parameters together in both of our best interests as partners, and most all the time, Don went along. We did many things in the early days to support the process of him getting through and getting off of probation. I also made sure to bring Don to visited my uncle Jimmy from time to time to keep their relationship going.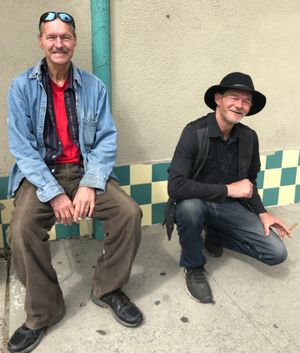 As time went on we were comfortable with tailoring each decision about things specifically to Don's case and relationship to using or alcohol so he still could maintain his own ideas and feelings about things while shifting his relationship to them. For example, in his perspective about hard drugs using was that for the most part he chose and managed his choices intentionally. With the exception of heroin and some of the more heavy physically addictive drugs, for the most part he would chose when he did and didn't want to use or drink and so when he met me it was just another choice to make. In my personal option, for Don specifically, measured moderation came with a reason and purpose to choose do and once we started to work together he allowed me to manage that with him, but we both knew this dynamic we built was extremely unique to us. For example, there are a lot great themes and insights in approaches to behavioral modification from AA that are good take always but there ended up being deeper reasons why lot that didn't end up applying to us. Turns out when processing situations on a case by case basis there is a spectrum for almost everything. It was really amazing to discover and see Don transform of his own volition over the years and more amazing at the fact that he would listen to me.
To my surprise and eternal gratefulness, his probation officer perceived many of these approaches in observation as positive and allowed me to guide Don within these parameters at arms length distance sense of freedom and I think she allowed for this as she watched the impossible unfold in our partnership together. Thanks to her we both were granted a second chance at life together. 
Release from the System for the first time and for good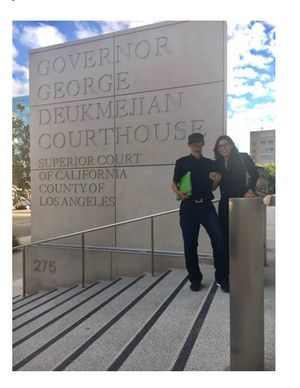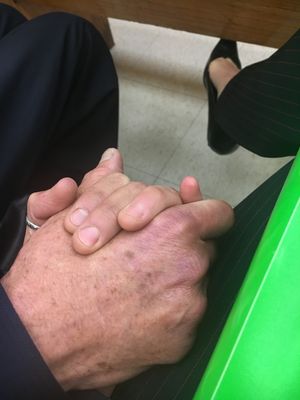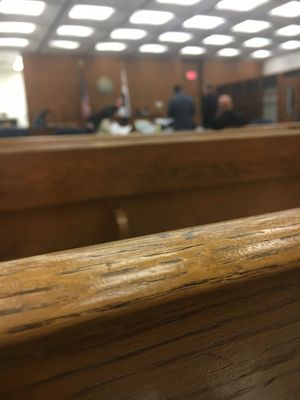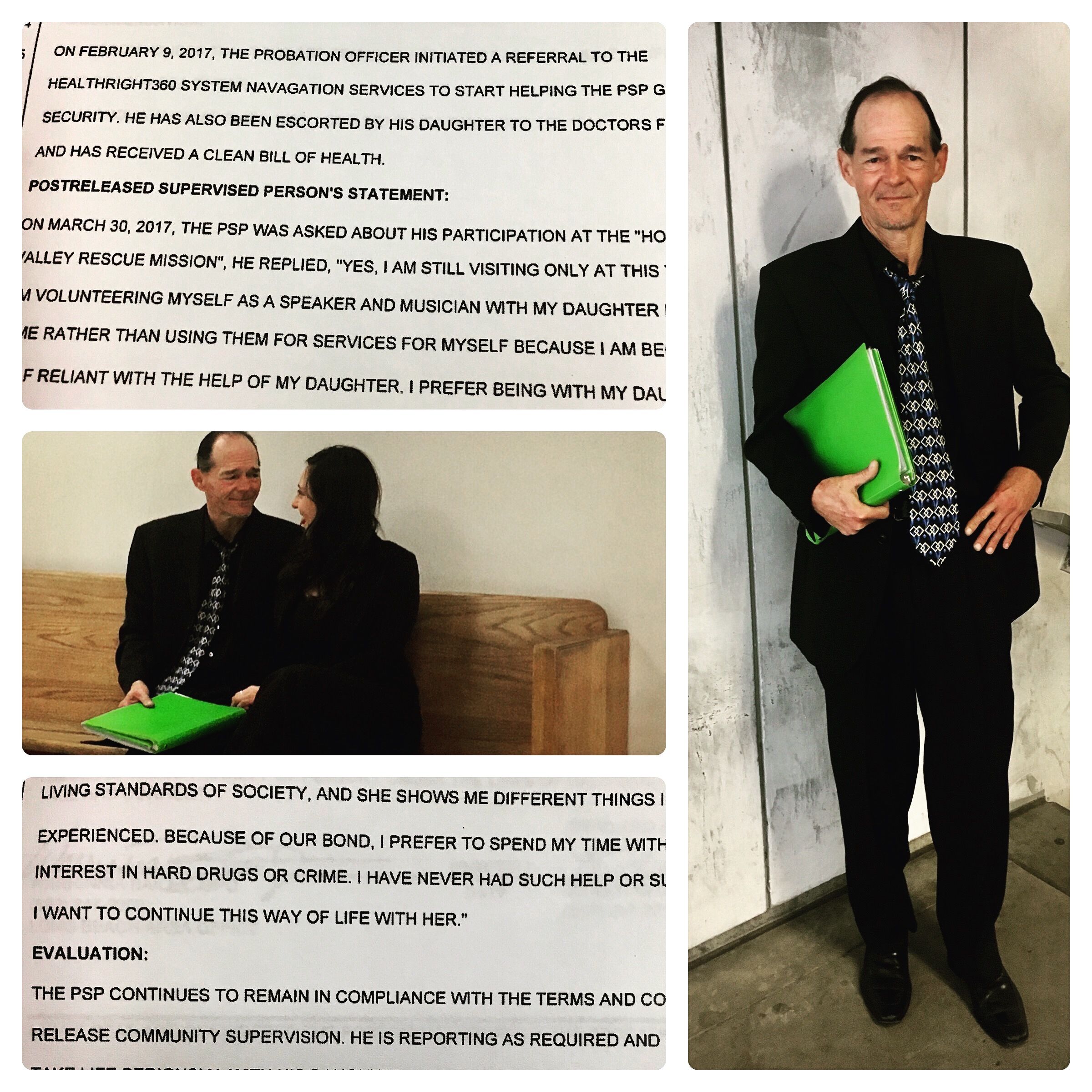 After two court hearings bookending about ten months of probation meetings, eventually, Don was released from the probation department and Judge K had me stand in the courtroom to honor our feat. It was pretty special and a day I won't forget, and I will forever appreciate him for all he did for us too.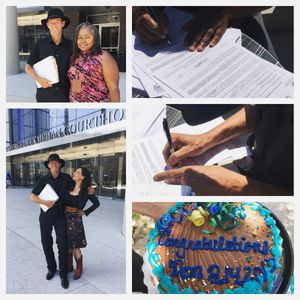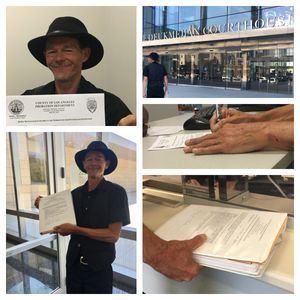 Towards the end of Don's probation term he started to really show transformative signs not only in his actions and attitude but also in his look. He had lost several years from his old haggard look and started to take up a new healthy look of his real age of 56. Officer B told me of a program at UCLA in the Dental School there where the students there would work on people's teeth for credit and since Don didn't have any, he ended up being the first homeless person to get dentures from their program. We went every Thursday for ten weeks and spent time with the students so he could get some teeth. Eventually, though he would hold them in his pocket saying they were almost too nice to wear.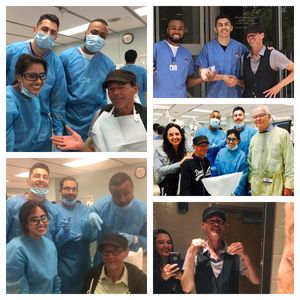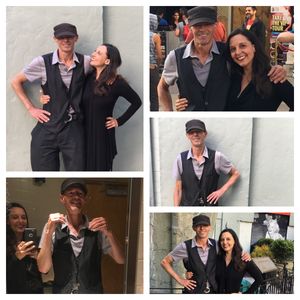 From Vagrant to Volunteer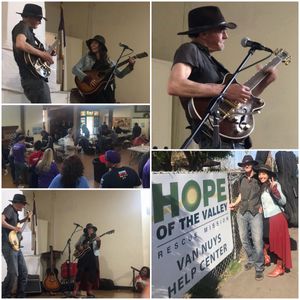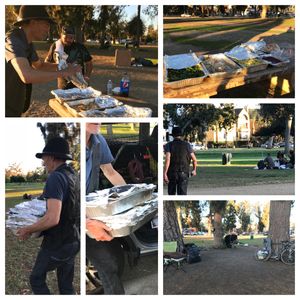 By this time, we started to do more of was volunteer with more focus for various non profits. This was to pivot Don's position. We started volunteering for Hope of The Valley's lunch times and attended their annual Thanksgiving lunch that our first thanksgiving together eventually graduating to the fundraiser entertainment three years later. Around that same time I also brought Don into a foster group home that I had programmed for creating a songwriting and recording workshop for the youth there. This time around Don joined me as a specialist on my team helping them make a song and cd which was the start of the pivot of him becoming a volunteer and soon become a speaker performer himself. We also began creating short music dinner performances for Recycle for the Homeless program at a church down the street from Temple Beth Israel that offered evening meals and a place for homeless to sleep. It was really special to see the reactions and connections from those experiencing homelessness there when Don shared his part of our story and perspectives.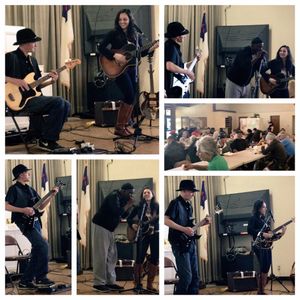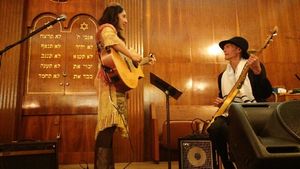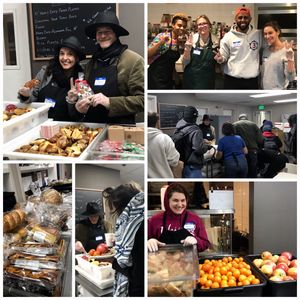 We also played a lot of our own music together, performed regularly at local venues, and attended music concerts.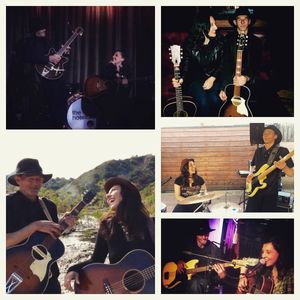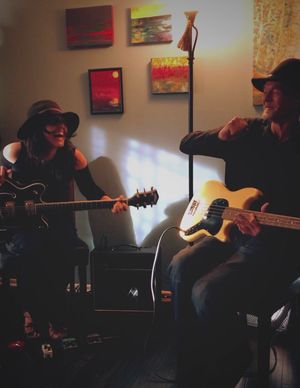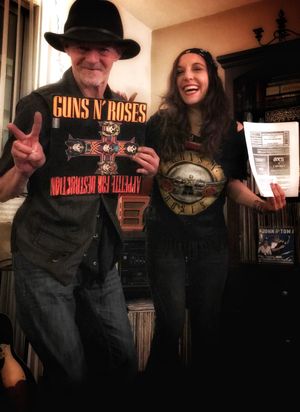 These early experiences became the pilot experiments and first of many music with story and songs programs we devised together called Home is Where the Heart is, A Biological Reunion Story to share our reunion and transformation with story and song to reach those experiencing homelessness, incarceration, addiction issues, foster care adoption and birth reunions, or any other relatable hardships as well to encourage others to have the courage to try something creative and new as well.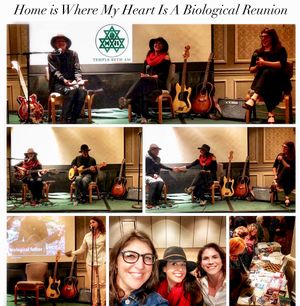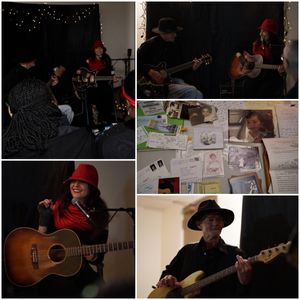 And because of our deep connection with music which we had fostered by playing music and performing together, Don continued to join me programs we made for Hope of the Valley's new homes for families where we volunteered to assist the children in learning about music and songs. Not surprisingly, they loved him too.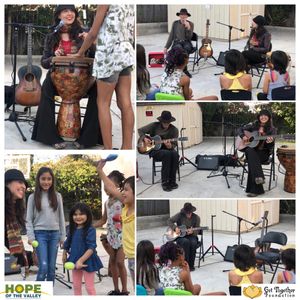 Stability
Throughout the next year we would graduate to a new level of stability for Don. He was able to get reading glasses from my brother Matt who is an optometrist, obtain a mailing address, update his ID to the new California ID, secure SSI, get a regular prescription for ensure and any other meds he needed, completely clear of Hep B and C that he had been exposed to while in prison, created a special savings account for Don and health directives to protect his future, and stabilize his meals, locating him as close to me as possible, my new home, without actually making him a legal resident so he could keep his homeless status just in case he wanted to go, rescued some animals, and never missed a holiday or birthday.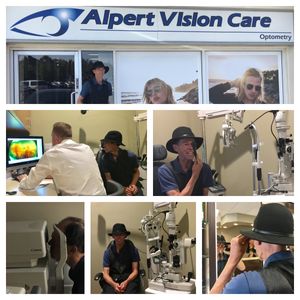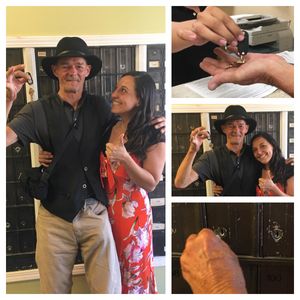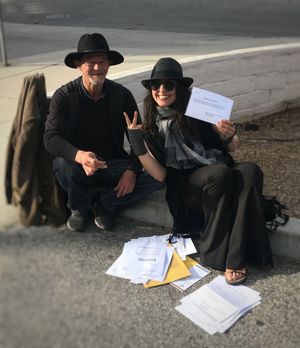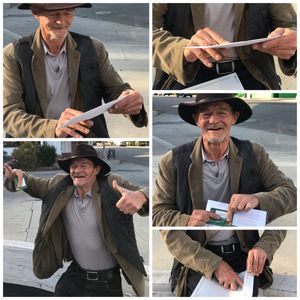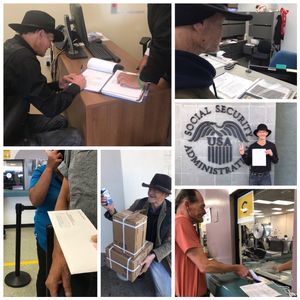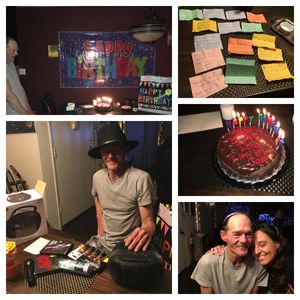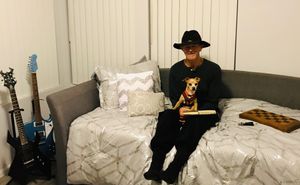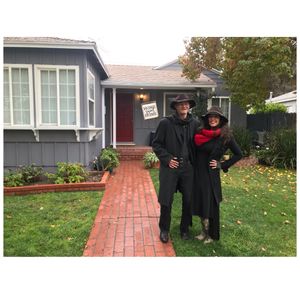 We were incredibly lucky to have one another and the support of everyone around us.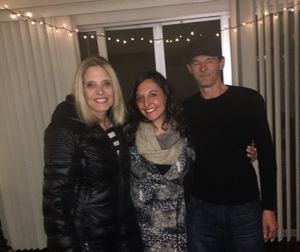 (my mom who adopted me meeting my birth father for the first time. She would continue to welcome him into all our family holiday events.)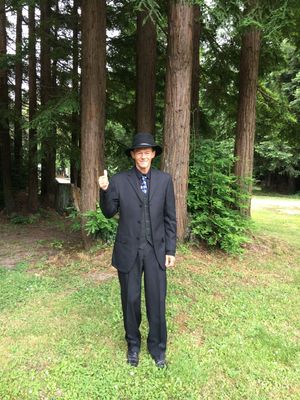 Or perhaps it was simply just fate. And all on his own Don began to transform.

*
Homeless the Soundtrack, The Subjects

Cont.
PART 2

VI. HOME IS WHERE THE HEART IS 
Over the course of four more years, our personal dynamic got closer forming an even stronger bond of togetherness as a team, his self proclaimed transformation and my new sense of center remarkable. Don and I began to grow our
partnership outward to offer
https://jennialpert.com/blogs/lineage-from-the-beginning/posts/home-is-where-the-heart-is